The Shame of Alternative Investments
University endowments and corporate and state pension funds are underperforming because of putting too much money in so-called alternative investments.
by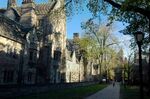 Last summer in Cambridge, Massachusetts, the Trustee Leadership Forum for Retirement Security held its annual meeting at Harvard's Kennedy School of Government. Trustees and representatives of various state pension funds listened to explanations about the challenges facing endowments and pension funds.