view
Decision Time Again for LeBron
LeBron James has opted for free agency -- Carmelo Anthony just can't catch a break.
by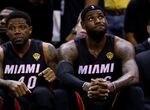 Carmelo Anthony can't catch a break. Can he?
Just a few days after the New York Knicks star opted out of his contract and became a free agent, LeBron James informed the Miami Heat he will do the same.
Let the bidding begin.
Neither announcement came as much of a surprise; 'Melo has said for months that he'd like to test free agency, while LeBron hinted that he might opt out after the Heat lost to the San Antonio Spurs in the NBA Finals. The timing is rather interesting, and it doesn't necessarily mean either star will leave his current team.
I threw that last bit in there for all those Knicks fans who are still clinging to the hope that 'Melo will remain in New York and haven't yet moved on to the next delusion that Phil Jackson could actually land Kevin Durant. As I've written before, and as more recent rumors of Anthony researching life in Chicago suggest, the Brooklyn native is leaning toward joining the Bulls -- and who could blame him? A championship -- and the post-retirement sponsorship deals that come with it -- go much further in establishing one's legacy than an extra $30 million or so.
Related: Angry LeBron Is the Best LeBron
LeBron can relate, having gone through the same when he made The Decision to take his talents to South Beach four years ago. This time around, he's not looking to establish his legacy -- he's looking to cement it -- but get ready to be transported back to July 2010. Rampant speculation on LeBron's next destination will dominate headlines in the coming weeks.
There's an outside chance that the Cleveland Cavaliers could contend for Ohio's favorite forgiven son, but only if you get most of your offseason news from LeBron's wife's Twitter. Among the more serious contenders are the Houston Rockets, Los Angeles Clippers and, of course, the Bulls -- the sexiest option for sportswriters looking to stretch the LeBron versus Michael Jordan angle thinner than Derrick Rose's knees. Chicago was believed to be on LeBron's short list back in 2010, and it makes sense for a team actively pursuing Anthony to target the best player on the planet, too.
'Melo can probably rest assured that LeBron won't pose too much of a threat to his own negotiations with Joakim Noah and company. Like 'Melo in New York, LeBron has incredible financial incentive to stay in Miami. According to ESPN Stats & Info, he can sign a five-year contract worth up to $127.7 million with the Heat. If he signs elsewhere, he's limited to $94.8 million over four years.
But it's not just about the money: LeBron knows he needs to surround himself with much more support than he had this year, when two-thirds of the Big Three were largely ineffective. By all accounts, the plan is to build from within. LeBron, Dwyane Wade and Chris Bosh have long considered collectively opting out to negotiate down their salaries and create cap room to bring in some much-needed depth. There's even been some talk about the Heat possibly bringing in a high-priced 'Melo, though that doesn't make sense for anybody involved. And if anything, Miami has even more reason to make the most of its No. 26 pick in Thursday's NBA Draft -- even if that means trading it for Iman Shumpert.
Ultimately, this offseason might come down to two familiar foes showing us just what they're made of. Pat Riley and Phil Jackson will make their best sales pitches to retain their stars, who will need to be convinced of their short-term prospects. Jackson might be publicly zen about these negotiations, but it's hard to assuage the concerns of a player and a fan base for a team that's been in a perpetual state of rebuilding for the better part of the last two decades. Riley, meanwhile, has managed to sustain the Heat's success in countless iterations during that span. Now he's hoping LeBron's "got the guts" -- or the faith -- that he can keep the train rolling in Miami.
Corrects reference to Carmelo Anthony's hometown in fifth paragraph.
To contact the author on this story:
Kavitha A Davidson at kdavidson19@bloomberg.net
To contact the editor on this story:
Stacey Shick at sshick@bloomberg.net
Before it's here, it's on the Bloomberg Terminal.
LEARN MORE