Iraq War Hawks Can't Be Silenced
The media shouldn't be deciding who speaks for the Republican Party.
by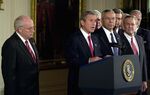 Last week, there was an interesting discussion among bloggers about the media, the Iraq War, and the current conflict: How should those who supported the 2003 war be treated? As Jonathan Chait cataloged, quite a few liberals encouraged the press to exclude those who got it wrong from today's debate.