Florida Asks Baseball to Fight Human Trafficking
Florida's Tea Party governor has found an innovative way to use the dubious practice of granting tax breaks for sports teams for the greater good.
by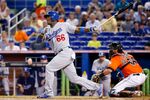 Florida's Tea Party governor has found an innovative way to use tax breaks for sports teams for the greater good.
On Friday, Republican Governor Rick Scott signed a bill that would provide as much as $3 million a year in tax subsidies for approved stadium projects. That might sound like more of the same corporate sports welfare to which we've become accustomed, and indeed, the new law comes despite the heavy objections by the Tea Party supporters largely responsible for Scott's election. But aside from the usual shaky promise of job creation from stadium construction and renovation, the law also targets the burgeoning practice of trafficking Cuban baseball players.
Following the stipulations of the U.S. embargo against Cuba, Major League Baseball requires Cuban defectors to establish residency in a third country before coming to the U.S. to sign with a team as a free agent, or be subject to the amateur draft, which could potentially cost them millions in salary and signing bonuses. As detailed by the story of Los Angeles Dodgers star Yasiel Puig's dangerous escape via Mexico, the way out of Cuba often involves human smuggling at the hands of violent criminals and cartels.
Under the state's new law, HB 7095, Florida's Major League Baseball teams that want those extra tax subsidies must ignore MLB's third-country requirement and instead negotiate with Cuban players as they would players from any other country. Potentially more significant, teams must also report any evidence of human trafficking.
Cuban players often promise a significant portion of their future lucrative contracts to smugglers as payment. According to Baseball Reference via Reuters, at least 20 players have defected in the last five years, signing contracts totaling more than $300 million. Most recently, 23-year-old outfielder Yasmani Tomas left after five seasons with the Havana Industriales and an appearance last year on the Cuban national team in the World Baseball Classic, where he caught the eyes of Major League scouts. He must now establish residency elsewhere before receiving clearance from both the league and the U.S. Office of Foreign Assets Control in order to sign with a team.
MLB likes to remind us that the league is simply following the labor rules set by the embargo, but that's not the whole story. Yes, the U.S. requires Cubans to establish residency in a third country before joining an American employer, while Cuba also restricts its players from signing with American teams. But it's MLB's flawed amateur draft structure, which limits the amount of money teams can offer their picks, that gives players incentive to go through trafficking channels. Even some granted asylum by the U.S. have chosen to be smuggled to a third country to cash in on unrestricted free agent contracts.
Furthermore, MLB isn't blameless in allowing human trafficking to take place. The league has known about this issue for decades but has remained complacent as smarmy sports agents connect their players with smugglers. The new law gives the Miami Marlins and Tampa Bay Rays an incentive to pressure the league to stop looking away and report suspicions of trafficking to Florida's attorney general. It's unclear how much of an effect MLB can have on altering U.S.-Cuba relations, but at least the league can stop indirectly aiding human trafficking cartels.
This column does not necessarily reflect the opinion of Bloomberg View's editorial board or Bloomberg LP, its owners and investors.