An Etiquette Lesson for Selfish Brands
Kirsten Salyer writes about consumer culture for Bloomberg View and is the site's engagement editor. She has also written for Condé Nast Traveler, Texas Monthly and Houston Community Newspapers. She has a bachelor's degree in journalism and international studies from Northwestern University.
Read More.
U.S. companies spent $5.1 billion last year on social media advertising. About 72 percent of U.S. adults engage on social media channels, often multiple times a day. We're now in a world in which even attention-deficit-hyperactivity-disorder drugs have Facebook fan pages, and we've passed the point of "maybe companies should be on social media" and run headlong into "let's all advertise with five-second messages that self-destruct." Brands want hashtags just because. So it's worth asking: How much do these efforts affect what consumers buy?
According to Gallup's State of the American Consumer report out today, the answer is: not much. Of 18,000 consumers surveyed, 62 percent said social media had no influence on their buying decisions. Among millennials, 48 percent said social media didn't make a difference.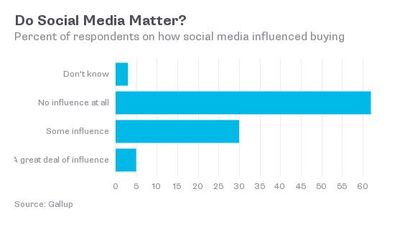 That's probably a bit disconcerting if you're in the business of brand marketing via social media. Should brands give up? No. Consumers are often bad at acknowledging what influences them to buy things. But that doesn't mean brands don't need to change. Many social media advertisers have been too busy treating social media like traditional advertising platforms and neglecting the essence, and potential, of social media: people talking to people.
A lot of companies still treat social media as a one-way broadcast rather than a conversation. Shouting at people to buy things on a platform where most users are sharing pictures of their pets just doesn't make sense. According to Gallup, 94 percent of people on social media are looking to connect with family and friends, not marketers. ("Oh boy, I can't wait to click on a targeted promotional message trying to sell me something!")
A March survey of more than 30,000 consumers in 16 countries found things get more interesting if a brand message is delivered by a friend. The survey, by IBM Institute for Business Value, found almost six of 10 global consumers said their friends' social media posts influenced their purchasing decisions.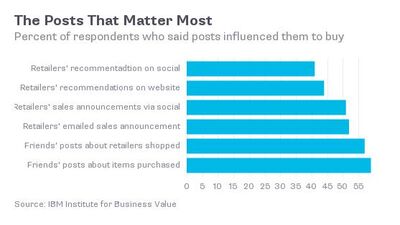 Because advertisers value "reach" and "audience size," companies have rushed to attract (and in some cases buy) large followings on social media channels. But bodies don't necessarily translate into engagement. The average Facebook post by a brand reaches fewer than 7 percent of the brand's fans because the network's algorithm limits how much content viewers see. According to Gallup, among consumers who said they "liked" or "followed" a brand, 34 percent still said social media don't shape what they buy.
In effect, most consumers don't use social media the way brands want them to. But if brands want to reach consumers on platforms specifically designed for people to talk to people, they're going to have to stop talking only about themselves. They need to adopt some basic social etiquette: That starts with less shouting, more listening.
This column does not necessarily reflect the opinion of Bloomberg View's editorial board or Bloomberg LP, its owners and investors.
To contact the editor on this story:
Frank Wilkinson at fwilkinson1@bloomberg.net