view
Senator Bennet's Strategy to Keep Democrats in Control
The means to identify, target and reach more passive voters have become much more sophisticated,
by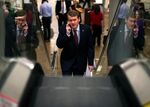 The U.S. Congress is dysfunctional, yet there are interesting, thoughtful members -- Republicans and Democrats.

In the top tier is Colorado's Democratic junior senator, Michael Bennet. He's an expectations-buster. With no background, he became a successful financial executive. He won high praise as head of the Denver school system, even though he had little experience in education, and after being appointed to fill a vacant seat in the U.S. Senate in 2009, he won election in 2010, a dreadful year for most Democrats.
The 49-year-old will be on short lists for vice president in 2016, especially if his strategy as chairman of the Democratic Senate Campaign Committee thwarts Republican plans to take control of the chamber this November.
Bennet thinks a lot about ideas such as innovation and competing in the global marketplace. He worries that the U.S. risks its competitive advantage if the government remains paralyzed over immigration reform, infrastructure investments and creating a more efficient tax code.
Generally a progressive Democrat, he often circumvents the partisan divide. This year, however, his main focus has been to keep the Senate in Democratic hands; a Republican takeover would be a nightmare for President Barack Obama.
Along with his savvy campaign executive director, Guy Cecil, he is recalibrating traditional strategy to stave off this challenge. The focus is less on big television advertising campaigns and more on old-fashioned voter mobilization with cutting-edge new technologies.
"It's precinct politics with 21st-century technology," Bennet says.
In part this is driven by necessity. "We can't compete dollar for dollar with the outside conservative groups" that are spending hundreds of millions in the most competitive Senate races, he says.
Moreover, with all this spending, there's clutter on the airwaves, diluting any message. And in today's polarized politics, persuasion through ads is less effective.
Losing campaigns -- think Barry Goldwater or George McGovern -- have long deluded themselves that their special appeal would enlarge the voting universe. That isn't the Bennet and Cecil theory. They note that the drop-off in voters for presidential elections disproportionately involves Democrats: younger people, lower incomes and minorities. The means to identify, target and reach more passive voters have become much more sophisticated, starting with Obama's presidential runs and the increasing use of social media.
Nothing will stem a national tide. But short of that, Sasha Issenberg, who has written extensively on the new techniques of mobilization, argues the Democrats have the capacity, if they have the resources, to increase marginal turnout to affect a number of close contests.
The central components of success are raising enough money and then recruiting a sizable volunteer force -- volunteers are more effective than paid canvassers -- to work their own neighborhoods and precincts to register voters and get them to vote.
They have databases to identify prospects with all their demographic essentials and possess the techniques to contact and influence them. A small example: Research shows that in a mailing or direct contact, the suggestion that there may be a follow-up on whether the contacted person actually votes -- "we may contact you on your experience" -- markedly increases the prospect of a target turning out.
Thus the Democratic Senate Campaign Committee and affiliates plan to spend about $60 million on these mobilization efforts, or about one-third of the budget, almost 10-fold what the DSCC spent in 2010.
Republicans dismiss this as pie in the sky, arguing that Obama's sinking approval ratings and dissatisfaction with the economy and the health-care law will depress Democratic turnout and bring more Republicans to the polls this fall.
Bennet, who unlike most other Democrats in 2010 relied heavily on field operations in his Senate race, acknowledges this isn't an easy environment, but suggested the climate and candidates are better than they were four years ago.
"If I could survive in 2010, the notion that with the candidates we have this year we can't win is just wrong," he says.
To contact the author on this story:
Albert R Hunt at ahunt1@bloomberg.net
To contact the editor on this story:
Max Berley at mberley@bloomberg.net
Before it's here, it's on the Bloomberg Terminal.
LEARN MORE