view
What Mattered This Week?
What's happening in Iraq mattered.
by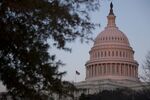 I'll pick an easy one: Iraq certainly seemed to matter.
What didn't matter? Gallup has Congress at record low approval ratings. That's interesting, I suppose, even beyond the line of "everyone always hates Congress." But it probably doesn't mean anything for November.
I've still been traveling and probably missed all sorts of things but what did you see? What do you think mattered this week?
To contact the author on this story:
Jonathan Bernstein at jbernstein62@bloomberg.net
Before it's here, it's on the Bloomberg Terminal.
LEARN MORE