Is a Threat on Facebook Still a Threat?
Does the First Amendment allow prosecution of angry mutterers who never intended to threaten anyone?
by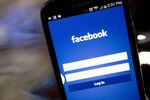 The U.S. Supreme Court announced this week that it will hear the appeal of one Anthony Elonis, who is serving a 44-month federal prison sentence for posting on his Facebook page threats against his ex-wife. Although few seriously expect Elonis's conviction to be overturned, the case is not nearly as simple as it seems. At the very least, scholars and lawyers hope the justices will bring clarity to an area that is in desperate need of it: the constitutional limits on government power to punish online speech.