Dick Cheney Would Be an Awful Trader
Former Vice President Dick Cheney's failure to learn from his past mistakes offers valuable lessons for investors.
by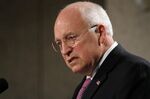 I have spilled a great deal of pixels and time in these pages discussing the importance of not letting your biases get the best of you as an investor. (Seethis,this, this,this, this, this, this, this, and this). Further, when you are wrong, you must do more than merely acknowledge it: Embrace the error, understand it and learn from it. Traders who don't learn these lessons very quickly become ex-traders.