Barbie Leans In, Trips on Power Heels
Kirsten Salyer writes about consumer culture for Bloomberg View and is the site's engagement editor. She has also written for Condé Nast Traveler, Texas Monthly and Houston Community Newspapers. She has a bachelor's degree in journalism and international studies from Northwestern University.
Read More.
Barbie's 2014 Career of the Year doll is out, and right on trend, she's an entrepreneur. Of what? Who cares. What matters, apparently, is that she has a tablet, a shiny briefcase and a "signature pink" power suit. She's "Legally Blonde" with an iPhone.

She's also likely too little, too late -- both as a role model for young girls and as an attempt for toymaker Mattel Inc. to reinvigorate the fading brand. The 55-year-old doll's relevance is slipping: Mattel posted a loss in the first quarter of 2014, with worldwide gross sales of Barbie down 14 percent: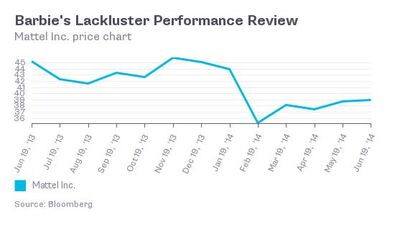 On paper, "Entrepreneur Barbie" sounds like a good idea to tap into Silicon Valley and the "lean in" craze. This Barbie is teaming up with real-world "chief inspiration officers" who have created their own businesses, including the founders of Girls Who Code and Rent the Runway. She's even pushing the hashtag #unapologetic, which seems to fit with the message, also promoted by Pantene, for girls to stop saying "sorry" in the workplace.
But for all the hype, this latest Barbie comes across as a poor attempt at modernization. The "career girl" line has been around since 1963, and Barbie, as Mattel puts it, has broken the "plastic ceiling" before. She was "Barbie Miss Astronaut" in 1965, 18 years before an American woman went into space, and she's run for president six times, first in 1992 (dressed in a big puffy blue skirt and red lipstick). She's also been a model, flight attendant and candy striper.
But many things about Barbie haven't changed with time. All Barbies pretty much look the same: stick-thin and impossibly proportioned. The brand has been blamed for having negative effects on girls' body images. Barbie's not apologizing for that, either. She was also "unapologetic" when she ruffled feathers earlier this year for posing in a swimsuit in a promotional campaign in partnership with Sports Illustrated's swimsuit issue.
Perhaps Mattel should look at its other doll line for inspiration. Mattel's American Girl brand, which the company bought in 1998, saw a 5 percent increase in sales in the first quarter of 2014. This followed an increase of 11 percent at the end of 2013, when Barbie was down 6 percent. While American Girl dolls have recently been critiqued for their lack of diversity -- it discontinued two of its historic dolls, an Asian-American character and one with African-American and French roots -- at least some of the dolls have cleverly constructed backstories and others can be customized to look like you. They at least feel interesting and relatable.

Meanwhile, Entrepreneur Barbie is frozen, holding her "cool clutch" and "smartphone" and totally oblivious to where she's going in those power heels.
Barbie has another problem: More than 70 percent of children in the U.S. under 10 years old have a smartphone at home, and touch screens now beat out all other toys for how often children 12 years old and younger interact with them: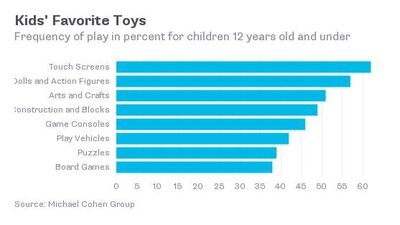 Why play with a plastic doll's tiny smartphone when you can go play on your real one?
This column does not necessarily reflect the opinion of Bloomberg View's editorial board or Bloomberg LP, its owners and investors.
To contact the editor on this story:
Toby Harshaw at tharshaw@bloomberg.net