Barbie Leans In, Trips on Power Heels
"Entrepreneur Barbie" is too little, too late.
by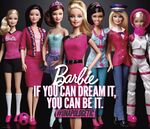 Barbie's 2014 Career of the Year doll is out, and right on trend, she's an entrepreneur. Of what? Who cares. What matters, apparently, is that she has a tablet, a shiny briefcase and a "signature pink" power suit. She's "Legally Blonde" with an iPhone.