Why Living in Beijing Could Ruin Your Life
According to new data, the average 18-year-old Beijinger should prepare to spend more than 40 percent of the rest of his or her life ill or infirm.
by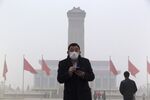 If you want to be healthy for the rest of your life, don't live in Beijing. Sure, the city's life expectancy rates exceed those of the United States as a whole. But, according to data released Tuesday by Beijing's Centre for Disease Control and Prevention, the average 18-year-old Beijinger today should prepare to spend as much as 40 percent of those remaining, long years in less than full health, suffering from cancer, cardiovascular disease, and arthritis, among other ailments.