Republicans Elect New House Leaders. Now What?
So today's elections are meaningful. Just don't be too sure you know exactly what they mean.
by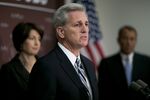 Representative Kevin McCarthy, a California Republican, was elected this afternoon as the new House majority leader, replacing Representative Eric Cantor of Virginia. Representative Steve Scalise of Louisiana won McCarthy's former post of whip. A quick reminder of what I said last week: Be extra careful about interpretations of congressional leadership elections.
The natural inclination of the press is to interpret these contests purely in terms of competition between recognized party factions. Sometimes, that's partially valid. But these elections also are very personal decisions for people who know the candidates and, in many cases, have longstanding relationships with them. Individual results may turn on those relationships. Or on non-ideological divisions, such as regional interests. Or even on deal-making that the press never hears about.
Here's another way of looking at it: Yes, House leadership is quite important. But it is also severely constrained by the conference's stance on issues of public policy. On the margins, or perhaps a bit more, leadership has some ability to choose the bills it will schedule and those it will bury, and perhaps one leadership team is more able than another to get over the finish line to 218 votes. But it's not as if the conference will automatically fall in line with whatever leadership wants. Leaders who misjudge what individual members want is the perfect recipe for coups.
So today's elections are meaningful. Just don't be too sure you know exactly what they mean.
This column does not necessarily reflect the opinion of Bloomberg View's editorial board or Bloomberg LP, its owners and investors.