Immigration Will Vex Cantor's Successor, Too
Kevin McCarthy, who'll be elected House majority leader today, is the polar opposite of the man he succeeds, Eric Cantor. 
by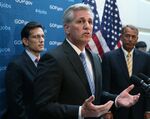 Kevin McCarthy, who'll be elected House majority leader today, is the polar opposite of the man he succeeds, Eric Cantor. Yet he may face similar problems.
Cantor, who this month was upset in a Virginia primary that sent shock waves through Republican ranks, was well-versed in policy; McCarthy has evinced little interest in such complexities and nuances. In recent times, the majority leader's office often has been a focal point of policy deliberations.
McCarthy, 49 years old, is unsurpassed in political acumen. He is to electoral knowledge what Ted Williams was to hitting: he eats, sleeps and breathes politics with a deep sense of most member's districts. In 2010, he played a major role in recruiting and helping elect a Republican class that gave the party control of the House. For Cantor, who lost touch with his home constituents, politics was more work.
Cantor was respected by most of his party colleagues; McCarthy is liked by almost all and by more than a few Democrats. Cantor, close to Wall Street, was a prodigious fund-raiser. McCarthy is more into technology and communications.
Although Cantor's relationship with House Speaker John Boehner improved markedly, the gregarious McCarthy is likely to have good relations with the sometimes-taciturn speaker from the start.
And while Cantor was the go-to guy in the Republican leadership for outside conservative groups, McCarthy may get some heat from the right-wing rank-and-file, especially if the conservative Steve Scalise is elected to succeed him as whip.
One commonality may be an issue that bedevils the Republican Party: immigration. Cantor's little-known Republican opponent, who beat him decisively, accused the House party leader of advocating amnesty for immigrants here illegally. The charge was bogus, but some believe it stuck.
McCarthy, who earlier served in the California Assembly, knows how the immigration issue has destroyed the Republican party in his home state ever since then-Governor Pete Wilson went on an anti-immigration campaign two decades ago. At every level of government in California, Democrats dominate consistently, running up big margins with the fast-growing Latino and Asian-American constituencies.
But McCarthy also will lead a party in the House that has a strong nativist bloc, and may resist taking up a serious immigration effort in this Congress and perhaps the next one too. More than a few political experts, including Boehner, believe this would be devastating for the party in national elections. McCarthy shares that view, but sensitive to his own party conference -- he'll have to be reelected to a leadership post after the November elections -- he'll be very cautious on the issue.
He may get a pass from some Republican-friendly immigration reform advocates. "If it were in Kevin's hands we'd have a immigration bill on the House floor before the August recess," says his ally Tom Nassif, chief executive officer of Western Growers, a powerful agriculture group. These agriculture interests heavily depend on immigrant labor and favor a reform bill. But, Nassif says, he appreciates the politics McCarthy faces: "We understand the difficulty."
This column does not necessarily reflect the opinion of Bloomberg View's editorial board or Bloomberg LP, its owners and investors.