view
Carney Bends It Like Maradona
The Bank of England is working hard to convince the world that a rise in interest rates may be just around the corner. I smell a bluff.
by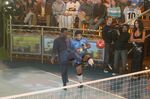 The Bank of England is working hard to convince the world a rise in interest rates may be just around the corner. I smell a bluff; Mark Carney may be attempting to pull off a trick identified by his predecessor, Mervyn King, who in turn attributed it to the former Argentina soccer star, Diego Maradona.
King outlined his "Maradona Theory of Interest Rates" in a lecture in May 2005. He recalled how England had lost to Argentina in the 1986 World Cup in Mexico, after Maradona evaded five players on a 60-yard dash from his own half to score. "The truly remarkable thing, however, is that Maradona ran virtually in a straight line,'' King said. Because the English defenders "expected Maradona to move either left or right, he was able to go straight on.''
King went on to argue that central banks are also sometimes able to achieve price stability by moving in a straight line and keeping interest rates unchanged. Just as England's defenders expected Maradona to swerve, traders and investors may start to anticipate a shift in monetary policy, thus producing a change in credit conditions without the central bank actually acting.
The Bank of England's Monetary Policy Committee said yesterday in the minutes of its June 4-5 meeting that the "relatively low probability attached to a bank rate increase this year implied by some financial market prices was somewhat surprising." Last week, Carney said that the first rate hike "could happen sooner than markets currently expect." Here's what's happened to prices in the futures market, where traders bet on where interest-rates are headed: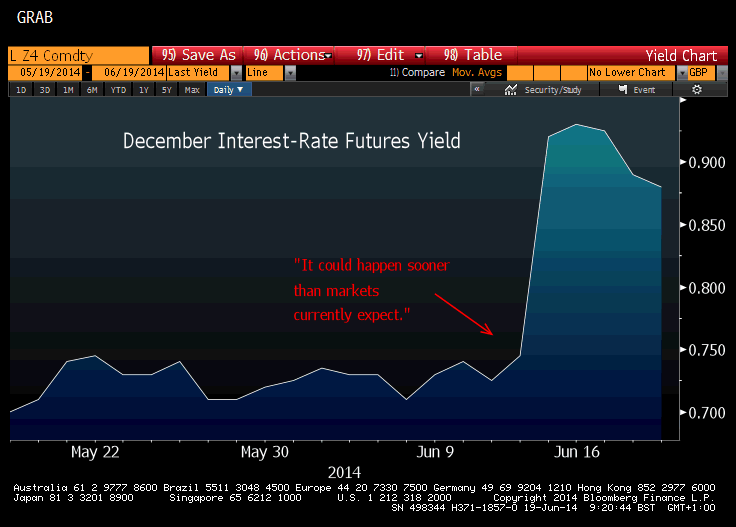 So Carney has already produced a tightening in credit conditions, even though none of the nine policy makers has actually voted for higher borrowing costs yet.
Carney has form, as we say in the U.K., in talking a good game on borrowing costs without necessarily following through. In May 2011, when he presided over a 1 percent interest rate cut as head of the Bank of Canada, Carney warned that "some of the considerable monetary policy stimulus currently in place will eventually be withdrawn." In July of that year, his central bank dropped the word "eventually" from its statement on when rates would increase. By December, the bank was still saying "some modest withdrawal of monetary policy stimulus will likely be required."
Here's what the Bank of Canada actually did with interest rates in the final years of Carney's governorship, and indeed in the following months and years: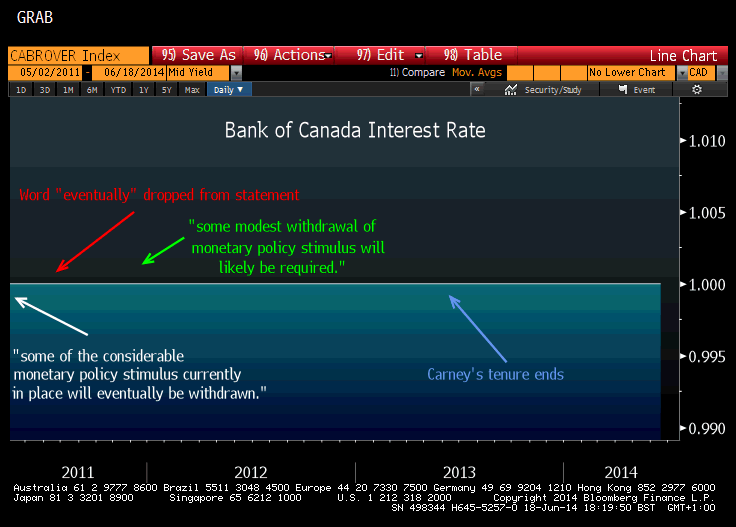 To be fair, Carney had increased the overnight rate twice in 2010, first to 0.5 percent from 0.25 percent in June, and then to 1 percent in September. Both doublings had been flagged well in advance. Still, his warnings through 2011 and 2012 succeeded in prompting traders to push money-market rates higher than they would otherwise have been, without the central bank rate budging.
The Bank of England's policy rate has now been stuck at a record low of 0.5 percent since March 2009. Carney's comments this month have persuaded economists to pencil in a rate increase for the final months of this year, when 2015 was previously seen as the earliest date for a move. Don't be surprised if his threats turn out to be as hollow as England's 1986 World Cup hopes.
To contact the author on this story:
Mark Gilbert at magilbert@bloomberg.net
To contact the editor on this story:
Marc Champion at mchampion7@bloomberg.net
Before it's here, it's on the Bloomberg Terminal.
LEARN MORE