Amazon Is Wrong Player to Start 3D Revolution
Amazon's treatment of 3D technology in a smartphone is the biggest revolution since the software keyboard, but Amazon is the wrong company to launch it.
by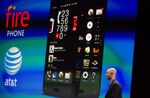 It says a lot about the current state of the smartphone market that Amazon, which unveiled its first phone on Wednesday, disappointed some analysts by not starting a price war. Phones, even high-end ones, are now a commodity. It's time to break the mold, the way Apple did with the first iPhone, and Amazon has made a valiant attempt with the Fire Phone -- but it's the wrong company to make the most of its major innovation, head-tracking technology to produce 3D images.
A 32-gigabyte Fire Phone sells for $649 without a contract, as much as a 16-gigabyte iPhone 5s. Given that the average price of a smartphone has declined to about $316 from $352 in the past year or so, there has to be a reason to pay that much for Amazon's debut model, whose specs are solid but not industry-beating. Besides, the phone does its best to tie users into Amazon's commercial ecosystem, making it extra easy to shop at its numerous virtual outlets (advanced features include product recognition, leading to immediate shopping suggestions). Why would a buyer not demand a serious discount in return for exposing herself to that kind of round-the-clock sales pitch?
Amazon chief executive Jeff Bezos' answer to that is the phone's Dynamic Perspective technology. It's a compromise implementation of an idea offered by hacker Johnny Lee, who now works for Google, in a viral 2007 video. In the clip, Lee put a Nintendo Wii game console remote in front of a TV screen showing a flat image of targets suspended against a dark background, then attached the console's infrared sensor bar to a video camera and bounced it around. As the viewing angle changed, the targets appeared to pop out of the screen, hovering in thin air. That's how head tracking works on a basic level.
To build the effect into a phone, Amazon had to figure out how to make head tracking work without putting sensors on the user's head, as Lee did with his camera (the hacker's suggestion was to put infrared sensors on an eyeglass frame, but who wants to wear special glasses to use a phone?). The developers ended up embedding four infrared cameras, apparently produced by China's Sunny Optics, in the front of the phone. The cameras bounce light off the user's eyeballs to determine the direction of her gaze.
The effect isn't as stunning as Lee's 2007 effort. It's not Star Wars talking holograms, either. The Fire Phone does, however, display a multilayered, almost-3D image. This is the first time this has been achieved in a device not using a parallax barrier -- essentially a second LCD screen on top of of the regular one, channeling light the way those ridged lenticular postcards of winking girls and fluttering butterflies do. The first phone using a parallax barrier screen, made by Sharp, was a hit in Japan in 2002, but subsequent models didn't do as well. The problem with the technology is that it only works with a narrow viewing angle, and you have to hold the phone a certain way to enjoy 3D. Amazon's head tracking technology gets around that.
This is the first truly groundbreaking innovation to the smartphone since it lost a hardware keyboard, but it's not sufficient to make the Fire Phone a hit. Gadget enthusiasts see the 3D capability as a puzzling gimmick. "It's refined, but we'll have to really use the phone for a long time to know if it's something we'd actually want to use," Dieter Bohn wrote on The Verge.
Amazon's problem is that it doesn't have the apps, or the market power in the gadget industry, to start a 3D revolution. Its app store only holds about 240,000 titles, compared with more than 1.2 million each for Google Play and Apple's App Store. While the Fire operating system is built on top of Android, existing Android apps have to be tweaked; developers will be reluctant to explore the 3D features for the relatively small number of Fire Phones Amazon is likely to sell (the investment bank Jefferies estimates it will shift about 200,000 per month). The true point of the Amazon exercise may well have been to prove that smartphone innovation is not dead yet, and that engineers can still do better than just incremental improvements.
Convincing the world it needs 3D phones, though, is the kind of job at which Apple used to excel. It knows how to fire up the developer community, as it did recently with less momentous innovations, and with each of its hardware releases eagerly awaited, it could build a buzz around a phone with head tracking capabilities. Going to 3D would also play nicely to Apple's strong design competence. Yet it's late-starter Amazon, not Apple or another major smartphone player like Samsung, that has attempted to lead the revolution. That may well kill it: Apple, now much more cautious and conservative than under Steve Jobs, is likely to shrug at the Fire Phone's inevitably modest sales.
This column does not necessarily reflect the opinion of Bloomberg View's editorial board or Bloomberg LP, its owners and investors.