Help Albania, Legalize Pot
Albania is cracking down on its cannabis industry so it can join the EU. Perhaps Brussels should legalize marijuana instead.
by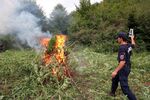 In its quest to join the European Union, Albania is trying to destroy a large chunk of its economy: About 800 police officers have been deployed to seize bags filled with marijuana and burn plantations around the village of Lazarat, which has been producing about 900 metric tons of the stuff a year, according to one estimate.
The socialist government of Prime Minister Edi Rama apparently hopes that the destruction of the pot will help win over EU officials, who have expressed concern about a number of problems in the deeply corrupt, lawless, predominantly Muslim country. One issue is the custom of blood feuds, a phenomenon the Albanian authorities have found hard to quantify, even though it has severely damaged the country's reputation. Another is a commercial dispute between Albania and the Czech power company, CEZ AS, an investor in its power distribution system. Then there is the trafficking: Albania is not only a major growing nation but also a transit hub for African and Middle Eastern drugs that flow into neighboring Greece and Italy and from there to other European nations.
Although Albanian officials have been promising to fix all this, they have focused on one theme: Europe should accept Albania to send a positive signal to the Balkans.
"We are far from being angels but everyone has made a clear choice -- to make peace for the sake of the European perspective," Rama said in a recent speech.
This has been a convincing argument for the Europeans, who are likely to grant Albania candidate status next week -- a huge credibility boost for Rama and his nation that, judging from the experience of Turkey, doesn't necessarily bring the country any closer to EU accession. No matter what European bureaucrats say, Albania is in much worse shape both economically and in terms of rule of law than even Bulgaria, the EU's poorest member.
If Albania can be accepted as a candidate, why not Ukraine? Despite the armed conflict raging in its eastern regions, it is at least not a haven for drug trafficking or bloody medieval traditions. Foreign investors are more welcome under pro-business President Petro Poroshenko than under any other eastern European government. The EU won't dare make the move, of course, for fear of further provoking Russia.
To avoid the appearance of a double standard, Brussels should consider legalizing marijuana throughout the EU. Then Albania, with its well-developed cannabis industry, could be welcomed to the union as a country with a legitimate, honorable specialization. At prevailing prices in Colorado, which recently legalized recreational use of marijuana, the annual output of Lazarat would be worth about $7.6 billion, equivalent to almost a third of Albania's gross domestic product at purchasing power parity. The legalization in Colorado has brought in $7.3 million in taxes in the first three months and hasn't led to a perceptible rise in crime.
If Europe wants prospective members to meet its economic standards, it should allow them to do what they do best.
This column does not necessarily reflect the opinion of Bloomberg View's editorial board or Bloomberg LP, its owners and investors.
To contact the author on this story:
Leonid Bershidsky at lbershidsky@bloomberg.net
To contact the editor on this story:
Marc Champion at mchampion7@bloomberg.net
Before it's here, it's on the Bloomberg Terminal.
LEARN MORE