view
Fewer Airlines, Lots of Competition
Despite airline consolidation, the growth of discount airlines on the most popular routes suggests that the skies remain friendly to competition.
by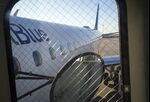 Is airline consolidation really so bad for the flying public? On the surface it would seem that way. In 2013, for instance, 85 percent of all U.S. domestic passengers flew on one of just four airlines -- each of which expanded substantially as a result of a merger or acquisition between 2008 and 2013. Meanwhile, between 2007 and 2012, airfares rose 4 percent. Consolidation appears to have reduced competition.
Or has it? According to a Government Accountability Office report issued last week, during that same period there was "little change" in the average number of competitors on domestic routes flown by U.S. carriers. (The report concedes that its calculations don't measure the effects of the 2013 merger between American Airlines and U.S. Airways.) That may seem counterintuitive to anyone who's watched the number of carriers flying out of their local airport slowly dwindle. However, the GAO largely avoids judging competition by how many airlines are based at specific airports, and instead looks at how much competition exists on specific routes flown either directly, or via connection. From that perspective, there's plenty of competition in the U.S. skies, especially if you're flying between popular cities, not rural ones.
Take the popular JFK-LAX route, which in 2007 saw three competitors offering direct or connecting service, and in 2012 had five, none of which dominated more than 28 percent of the business. On the other end of the passenger popularity spectrum, the BOI-BZN (Boise to Bozeman) route went from having three carriers offering connecting and direct service, to one.
Generalizing across thousands of routes, the average number of effective competitors on the most traveled itineraries only declined from an average of 4.4 to 4.3 in 2012. On the other end of the spectrum, the least-traveled routes in the study saw a decline from 3.3 to 3.
That's not bad from a competitive standpoint, and in fact, it's precisely what the airlines and regulators have long argued would happen. In 2008, the George W. Bush administration approved Delta's acquisition of Northwest Airlines despite opposition from some unions and passenger-rights groups, who insisted that the merger would lead to less competition and higher prices. The Justice Department disagreed, arguing that "the proposed merger between Delta and Northwest is likely to produce substantial and credible efficiencies that will benefit U.S. consumers and is not likely to substantially lessen competition."
Who are the competitors suddenly emerging at a time when consolidation is supposed to be extinguishing them? Low-cost carriers such as JetBlue, Southwest and Spirit Airlines are filling those slots. Naturally, they tend to expand into the largest passenger markets (at least that's what they did during the period between 2007 and 2012), while leaving smaller markets like BOI-BOZ underserved. For the vast majority of U.S. air passengers, this is still good news (though, as the GAO notes, the ultimate effects of consolidation may not be known for years).
At the same time, barriers to entry for low-cost and other carriers hoping to fly from the most popular U.S. airports (which they must if they want to compete for business travelers) remain formidable, and arguably subject to anti-competitive behavior from bigger carriers. At Reagan National, and the three major New York-area airports, for example, takeoff and landing slots are strictly rationed, and carriers that hold them are known to under-utilize them rather than surrender them to rivals. If regulators are interested in promoting further competition, they need to look at ways to promote a more flexible allocation of such slots.
Still, if the past six years and the GAO study suggest anything, it's that airline consolidation is a far more benign phenomenon that its critics have long suggested. Certainly there are winners and losers (especially in smaller cities). But the growth of discount airlines on the most popular routes suggests that the skies remain friendly to competition. Regulators interested in ensuring that they remain so should focus on keeping American airports open to established and emerging carriers alike, and then let the business take flight.
To contact the author on this story:
Adam Minter at aminter@bloomberg.net
To contact the editor on this story:
Nisid Hajari at nhajari@bloomberg.net
Before it's here, it's on the Bloomberg Terminal.
LEARN MORE