Fed Dishes Out Continuity
The Fed's steady-as-she-goes approach, while expected, also is reassuring to markets.
by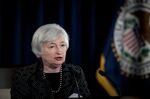 The outcome of today's Federal Reserve meeting was largely as expected, with the world's most powerful central bank maintaining a steady-as-she-goes policy approach and, in the process, sidestepping yesterday's market excitement following the higher-than-expected monthly inflation report. And markets, both bonds and equities, loved the policy continuity. But the institution's calm demeanor and consistent signaling conceal some challenging policy judgments that will likely impose themselves in the months to come.
Judging from both the Fed's statement and Chair Janet Yellen's news conference, the now-expanded Federal Open Market Committee remains committed to the two major policy pivots initiated in earlier deliberations.
First, in terms of policy instruments, Fed officials took another step today to gradually lift their collective foot off the quantitative-easing accelerator, reducing monthly purchase of securities by another $10 billion to $35 billion and supporting market expectations that the Fed will be out of the QE business by the end of this year. At the same time, they continued to solidify their forward-guidance policy, showing no hesitation in reminding us that rock-bottom interest rates will be with us for a while.
Second, they iterated that future changes in their policy stance are no longer a function of time or a single overwhelming data point. Instead, they will be influenced by what Yellen calls a "wide range of indicators." In the process, they continue to alert markets that there are no "built-in" actions or lack thereof.
Underlying this approach is an evolving view of the U.S. economy, both short and longer term.
For 2014, the Fed no longer believes that the U.S. economy will recover fully from its first-quarter, weather-induced disappointments. Beyond that, it has joined those worried about the growth potential of the economy. As such, Fed officials have started to concede that the long-term Fed funds rate is likely to settle below its historical level, though they don't think by much (at least so far). Finally, to the extent that Fed officials worry about inflation, it is limited primarily to movements in prices of goods and services, and the concerns have more to do with "persistently low" rates rather than excessively high ones.
For those of us following closely the evolution of Fed policy, this seemingly steady Fed is one that also has to deal with some pretty large unanswered questions. Consider the following four as an illustration of a broader phenomenon:
The balance between cyclical considerations, which validate a "highly accommodative stance of monetary policy," and secular and structural ones that would limit the beneficial impact of such an approach while increasing the costs and risks;
The extent to which asset-price inflation will serve as a conduit for higher growth and employment, rather than financial instability down the road;

The ability of macro-prudential measures to counter the risks of bubble-ish markets, overexuberant investors and deteriorating technical market conditions; and

How U.S. policies will impact the rest of the world in the context of "multi-speed central banking."

Each of these issues is complex and consequential as a standalone. The whole is materially more so. And all will require a tremendous amount of intellectual and operational agility on the part of the Fed. Fortunately, this was also the first Fed meeting at which the number of governors participating in the policy deliberations is almost complete.
This column does not necessarily reflect the opinion of Bloomberg View's editorial board or Bloomberg LP, its owners and investors.
To contact the author on this story:
Mohamed Aly El-Erian at melerian@bloomberg.net
To contact the editor on this story:
James Greiff at jgreiff@bloomberg.net
Before it's here, it's on the Bloomberg Terminal.
LEARN MORE