Why Japan's Debt Markets Are Frozen
By gobbling up an ever-larger number of bonds at auction and in the secondary market, the Bank of Japan governor Haruhiko Kuroda has essentially paralyzed the market. 
by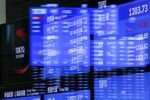 As Japangets the inflation it's been craving all these years, the bond market is doing something very surprising: nothing.
Far from panicking over each uptick in the consumer price index, traders are pushing Japanese government bond yields lower. Today's 10-year bond rate is 0.58 percent compared with 0.735 percent at the start of 2014, even though the CPI is rising at a 3.4 percent year-over-year rate. Anyone else confused?
This disconnect owes much to Haruhiko Kuroda's unprecedented asset-buying spree. By gobbling up an ever-larger number of bonds at auction and in the secondary market, the Bank of Japan governor has essentially paralyzed the market. What's more, this is becoming a global phenomenon as hedge fund managers from New York to London to Singapore bemoan the death of market volatility.
Few scribes have done a better job exploring this marvel of monetary-policy making better than my Bloomberg View colleague Mark Gilbert in London. He's looked at the feat through the lens of economist Hyman Minsky, who argued that long periods of market stability and harmony can reach tipping points, which then rapidly degenerate into chaos.
What worries me is that central banks in Frankfurt, Tokyo and Washington now find themselves on a treadmill from which there's no escape. As it accelerates, their bond-buying efforts will have to keep pace. Over time, there's no doubt that the world's biggest central banks are headed toward the widespread monetarization of debt -- effectively nationalizing bond markets and raising troubling questions. Not least of them: How exactly does a central bank withdraw from a market it essentially owns?
Kuroda is now the biggest player in Japan's $9.6 trillion bond market. As I pointed outlast August, Kuroda appears to have one eye on the playbook of Korekiyo Takahashi, whose radical debt-buying policies as finance minister back in the 1930s had the Tokyo establishment calling him their John Maynard Keynes. Former Federal Reserve Chairman Ben Bernanke credited Takahashi with "brilliantly rescuing Japan from the Great Depression through reflationary policies."
Yet three problems arise when it becomes hard to know where a central bank's balance sheet ends and the debt market begins. One is the loss of volatility that traders and companies need to buy and sell things. Heavily sedated from the BOJ's monetary tonic, bond-market transacting has all but stopped and price ranges are stuck in their tightest ranges ever. That's also carried over into the stock market, where big price swings are becoming a thing of the past.
A second problem is losing the vital information that a liquid debt market affords. If Japan's bond bubble does pop one day, as shortsellers like J. Kyle Bass of Hayman Capital Management have long predicted, it could come out of nowhere. The normal warning signals -- yield spikes and spreads between debt instruments -- are being deadened as we speak.
The third is finding an exit strategy. If Japan's experience with quantitative easing these last dozen years tells us anything, it's that restoring normalcy is devilishly hard. Debt markets become addicted to central-bank stimulants and weaning them off is easier said than done. Just yesterday, International Monetary Fund head Christine Lagarde said the Fed may have scope to keep interest rates at zero for longer than investors expect. How right she is about that!
This column does not necessarily reflect the opinion of Bloomberg View's editorial board or Bloomberg LP, its owners and investors.