Catch of the Day: Republicans Steer Away From Gay-Rights Issues
Very few Republican politicians want anything to do with LGBT questions in this election cycle. 
by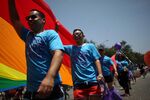 President Barack Obama is planning to issue an executive order that would prohibit federal contractorsfrom discriminating against gay and trans-gendered workers. Greg Sargent has it right:

Congressional Republicans are under heavy pressure — from people inside the party who want it to broaden its national appeal — to evolve on gay rights. That RNC autopsy into what went wrong in 2012 called for more sensitivity to gay rights as a way of keeping pace with evolving attitudes among young conservatives. A recent WaPo poll found that support for the idea that the Constitution protects the right to gay marriage has hit 50 percent, with 60 percent of those aged 18-39 agreeing.
Family-oriented conservative groups may well criticize this latest move. But his time — unlike in 1998 — if there is no serious backlash among GOP lawmakers to speak of, it will be yet another sign of the speed with which the ground is shifting, and an indication that even Congressional Republicans are increasingly acknowledging the need to keep pace with the culture's evolution on the issue.
As Greg points out, a comparable executive order from Bill President Clinton elicited a severe reaction from many House Republicans. Of course, the hint that Clinton would allow equal access to the military sparked a firestorm that wasn't confined to Republicans.
So some Republicans are still running against marriage equality, at least in some states. But has any Republican said one word about the repeal of "Don't Ask, Don't Tell" in the last two years?
If you remember the 2004 campaign, or the Clinton presidency, or the years before that, it's amazing how much things have changed. Republican opposition remains so intense that the Employment Non-Discrimination Act can't get a vote in the House (though it isn't intense enough that Speaker John Boehner can allow a vote on the measure and expect his Republican conference to thwart it).
Greg's guess is correct: Very few Republican politicians want anything to do with LGBT issues in this election cycle. And: great catch!
This column does not necessarily reflect the opinion of Bloomberg View's editorial board or Bloomberg LP, its owners and investors.