Friday Baseball Blogging: The Best, and Worst, Places to See a Game
The best, and worst, ballparks.
by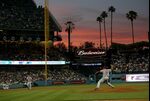 I'm back on the road next week, and this time I'm hoping to get a ballgame in. I'm scheduled to make it to a Nats game, which will be a new ballpark for me. The last new park I went to was Enron Field, or whatever it's called now ... I've only just begun visiting the modern ballparks.