view
Economic Nationalism Endangers Indonesia
Indonesia presidential front-runner Joko Widodo's pledges to restrict foreign investment in Indonesian banks, review trade deals and raise mining taxes will do more harm than good in a nation that direly needs more inward investment.
by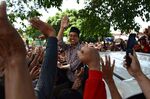 Economic ideas don't get much worse than Prabowo Subianto's plan to double the rate of Indonesia's borrowing.
The presidential contender wants to boost growth by increasing default risks and returning Southeast Asia's biggest economy to junk status. Why would a smart, former businessman with 41 percent support even suggest such a retrograde policy? To me, it's emblematic of the bad economic ideas pervading Jakarta ahead of next month's runoff election.
Frontrunner Joko Widodo, for example, is turning protectionist as the race tightens. The Jakarta governor's aim to reduce red tape and corruption and upgrade infrastructure is great. But his pledges to restrict foreign investment in Indonesian banks, review trade deals and raise mining taxes will do more harm than good in a nation that direly needs more inward investment.
Prabowo's proposal is just plain dangerous. His argument that Indonesia is "underleveraged" suggests he doesn't understand that debt-market perceptions matter. Sure, the nation's debt-to-gross domestic product ratio seems relatively low at 24 percent. Raising it toward 50 percent, he reasons, is the best way to accelerate growth and curb poverty. This factoid should give him pause: Bond traders think Indonesia is 10 times more likely to default than Malaysia or the Philippines, even though its liability ratio is half that of its Southeast Asian peers.
The reason is the legacy of bad fiscal managers past, including Prabowo's onetime father-in-law Suharto. Since 2004, President Susilo Bambang Yudhoyono has done a remarkable job cleaning up the national balance sheet, righting the economy and undoing the kleptocracy dictator Suharto built over 32 years until his ouster in 1998. But there's no guarantee of continuity, as Prabowo's debt-binge idea attests (Prabowo himself is a controversial former lieutenant general).
Yudhoyono's decade in office wasn't state of the art. The president has done more coasting than reforming in his second term. His anti-graft push lost its oomph and he has failed to curb the tide of economic nationalism that seems to have carried away both candidates to replace him. In a recent op-ed, economist Nouriel Roubini listed Jakarta among the governments "moving in a similar nationalist direction" when they should be addressing "major structural-reform challenges if they are to revive falling economic growth and, in the case of emerging markets, avoid a middle-income trap."
The future is Indonesia's to lose. The number of middle-class and affluent consumers is seen nearly doubling to 141 million by 2020, from 74 million in 2012. That demographic dividend could become a nightmare if governments don't create enough jobs. Indonesia's next leader should accelerate Yudhoyono's good governance efforts, deregulate industry, welcome overseas investment to finance new ports, highways and power grids and invest in education and health care.
Prabowo wants to get growth back in the 10 percent range from about 5.2 percent today, Hashim Djojohadikusumo, his brother and economic adviser, told Bloomberg's Yudith Ho. But is borrowing $300 billion from the capital markets over five years really the best way to do it? Indonesia must create growth organically by opening the economy, empowering small-to-mid-size companies and attacking corruption -- not by risking the wrath of bond traders and credit raters.
To contact the author on this story:
Willie Pesek at wpesek@bloomberg.net
To contact the editor on this story:
Nisid Hajari at nhajari@bloomberg.net
Before it's here, it's on the Bloomberg Terminal.
LEARN MORE