London Must Choose Uber or Nostalgia
London taxi drivers protesting the arrival of Uber cabs have a point: They are facing unfair competition from drivers who needn't incur the expenses imposed by existing taxi regulations. 
by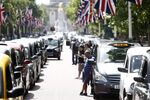 A disruptive technology has arrived from the U.S., in the form of Taxi-app Uber, to threaten the protected markets that have allowed cab drivers around Europe to keep fares high and competition low. No surprise then, that in London today, thousands of the city's iconic black cabs were snarling up traffic in Trafalgar Square to protest.