Is Apple Aiding Ireland?
The EU's investigation into Ireland's "state aid" to Apple is a way for Brussels bureaucrats to get into an area outside their remit: corporate taxes.
by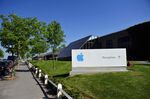 Are Apple and Starbucks benefiting from government subsidies? The European Union suspects they are and has launched a formal investigation into the matter, giving U.S. companies a taste of what Europeans hate about the bureaucrats in Brussels.
The investigation concerns tax rulings Apple has secured in Ireland, Starbucks in the Netherlands and the automaker Fiat in Luxembourg. "Tax rulings as such are not problematic: they are comfort letters by tax authorities giving a specific company clarity on how its corporate tax will be calculated or on the use of special tax provisions," the European Commission said in a statement today. "However, tax rulings may involve state aid within the meaning of EU rules if they are used to provide selective advantages to a specific company or group of companies."
To a layman, Ireland providing aid to Apple sounds absurd: It has a gross domestic product roughly comparable to Apple's annual sales (in 2013, $210 billion and $171 billion respectively). Fiat is twice as big as Luxembourg, with $118 billion in sales in 2013, compared to the tiny nation's GDP of $57 billion. It might appear that the eurocrats got it backwards: It's the multinationals that provide aid to the countries where their entities operate.
Last year, the U.S. Congress' Permanent Subcommittee on Investigations did a thorough job of painting Apple's Irish operations black, portraying them as shell companies set up for tax avoidance. It pointed out, for example, that 32 of 33 board meetings of Cork-headquartered Apple Operations International were held in Cupertino, California, and not in Cork, Ireland. The committee also noted that the holding company has no employees. Like another Irish firm, Apple Sales International, it has no declared tax residency and isn't paying much tax in any country.
As far as Ireland is concerned, however, that is no big deal. Apple's office in Cork, Ireland, was the first one the company opened outside the U.S., and it now has 4,000 employees making it the biggest employer in Cork. If economist Enrico Moretti is right about each tech job creating five additional ones in the service sector, the once-depressed city is getting plenty of reward from Apple.
No wonder the Irish authorities are not treating Apple as a tax-avoiding pest but a major partner. Prime Minister Enda Kenny toured the Cork facility in January with Apple chief executive Tim Cook.
EU bureaucrats are not guided by such logic, however. They are using the provision of the EU treaty which generally bans state aid to get into an area they aren't supposed to regulate.
Technically, it is none of Brussels' business how Ireland, the Netherlands or Luxembourg choose to tax corporations: The bloc's member states have the right to veto its attempts to set tax rules. "The Commission does not call into question the general tax regimes of the three Member States concerned," the EC's statement stressed.
State aid is another matter. The Commission's statement said the discretion available to Ireland's tax administration "has been used in the case of Apple to grant a selective advantage to that company, reducing its tax burden below the level it should pay based on a correct application of the tax rules."
Theoretically, if the European Commission rules that Ireland provided illegal aid to Apple, the Cupertino giant might be hit with retroactive taxes. In practice this never happens. Ireland -- and the other two countries involved -- will just look for a way to satisfy the bureaucrats without worsening their investment climates. It's not that difficult: Brussels doesn't really care how much tax Apple, Starbucks or Fiat will pay. All it wants is control.
Poland last year told the European Commission it wanted to provide "state aid" to Samsung by shouldering some of its expenses in a major investment project. "In general, the Commission has an unfavorable attitude towards regional aid being granted in the form of ad hoc aid," the European body said in its ruling. "However, in this case, the project will have a positive impact on the cities of Lodz, Poznan and Warsaw," including the creation of 300 new direct jobs. Poland's request was granted.
Apple's detractors in the U.S. shouldn't put too much hope in the EU when it comes to squeezing more taxes out of the iPhone maker. In Europe, there's nothing wrong with selective aid if you kowtow to the right people in Brussels. Bow low enough, and they will be reasonable.
This column does not necessarily reflect the opinion of Bloomberg View's editorial board or Bloomberg LP, its owners and investors.
To contact the author on this story:
Leonid Bershidsky at lbershidsky@bloomberg.net
To contact the editor on this story:
Marc Champion at mchampion7@bloomberg.net
Before it's here, it's on the Bloomberg Terminal.
LEARN MORE