Housing Bubble Isn't U.K.'s Big Problem
U.K. policy makers should stop interfering in the housing market. 
by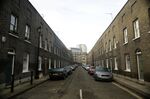 Ever played Ouija board? You put your fingers on a planchette, and the spirit world moves the pointer around a board featuring numbers and the alphabet to deliver messages from the other side. I'm starting to wonder if the global economy is like a giant Ouija board; the more policy makers try to steer the pointer in the direction they'd like it to go, the more it goes awry.
QuickTake Watching for Bubbles
Bank of England Governor Mark Carney is on the verge of enhancing his uniqueness among those who run the central banks of the world's major economies. Not only has he admitted to seeing a bubble in the economy -- something his peers have claimed is all but impossible -- he's on the verge of doing something about it. This is troubling.
On May 19, Carney said that surging U.K. house prices pose the greatest threat to the country's economic recovery:
"The biggest risk to financial stability, and therefore to the durability of the expansion, centers on the housing market." He added that policy makers "could do more" to rein in any excesses.
Here's a chart showing one way to measure affordability -- or lack thereof -- in the U.K. housing market. It uses monthly data on average house prices from the Department for Communities and Local Government, compared with average earnings as reported by the Office for National Statistics: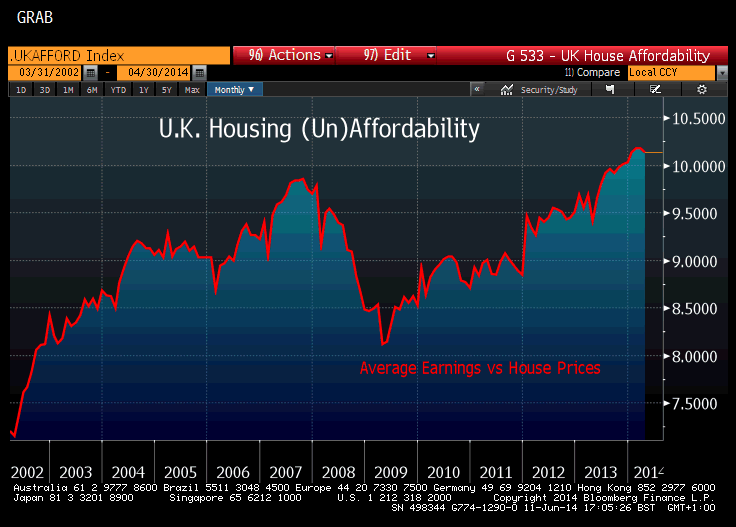 Britons earn an average of about 25,000 pounds ($42,000) a year; it therefore takes a bit longer than 10 years to earn enough to buy a house at the current average price of about 252,000 pounds. As the chart shows, the gap between wages and home values has been steadily widening. So, yes, houses are expensive.
But do we really want unelected officials explicitly steering asset prices? I don't think we do; it smacks of mission creep of the worst kind. If a bank wants to grant a 100 percent loan-to-value mortgage for 50 years at an interest rate of next-to-nothing, that's fine by me -- so long as my taxes aren't used to bail the bank out once the market punishes its profligacy. Government-imposed rules on lending ratios or mortgage maturities are no substitute for the naked Darwinism that would more efficiently sanction the financial sector.
Also, note that there are two sides to that housing affordability equation; the lack of wage inflation also unbalances the scales. Figures yesterday showed that U.K. average weekly earnings rose just 0.7 percent in April, slower than the 1.2 percent growth anticipated by economists in a Bloomberg survey even though the unemployment rate dropped to 6.6 percent from 6.8 percent a month earlier.
One of the unintended consequences of near-zero interest rates almost everywhere seem to be a lack of pricing power, be it companies selling goods or workers being rewarded for their labor. In many places, deflation is evident in salaries as well as consumer prices. If British wages were rising, houses might become more affordable.
The government has already intervened in housing with the Help-to-Buy 1 program that seems to have at least contributed to the housing bubble. The Bank of England's Financial Policy Committee is scheduled to deliver its stability report on June 26, and is likely to suggest curtailing that program -- the kind of lurching back and forth you might expect on a Ouija board, but which is unwelcome in the economy. Both the International Monetary Fund and the European Commission have called upon British policy makers to intervene in the housing market. That should be reason enough to stop meddling.
This column does not necessarily reflect the opinion of Bloomberg View's editorial board or Bloomberg LP, its owners and investors.
To contact the author on this story:
Mark Gilbert at magilbert@bloomberg.net
To contact the editor on this story:
James Greiff at jgreiff@bloomberg.net
Before it's here, it's on the Bloomberg Terminal.
LEARN MORE