Deutsche Bank Is Right to Raise Capital
Deutsche Bank's shareholders should be more concerned about staying afloat than about getting diluted.
by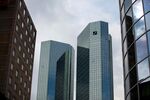 The efforts of European banking giant Deutsche Bank AG to shore up its finances by raising equity capital have triggered various reactions, from speculation about upcoming regulatory fines to anger from shareholders worried that their stakes will be diluted.
Amid the noise, one point might be getting lost: The move is an important step toward the much bigger and critical objective of a healthier European banking system and economy.
For the last seven years or so, European banks have been attempting to restructure and reform. The progress made has so far fallen short of what's needed to restore the flow of credit to productive uses in the real economy. Europe's anemic growth, in turn, has undermined the asset quality of banks at a time when taxpayer support for the financial sector has already been substantial.
Now, Europe is aiming to get more serious about reforms. The governments of the euro area have entered a banking union with a strengthened approach to sharing responsibility for overseeing large financial institutions and managing the consequences of failures. The European Central Bank is subjecting banks to comprehensive asset-quality reviews and stress tests as it prepares to take on the role of supranational regulator.
The goal of the stress tests is to force banks, once and for all, to improve asset quality and raise the capital they need to end the credit paralysis that has been holding back the European economy. Healthier banks are also important for the success of the ECB's bold unconventional stimulus measures, aimed at countering the detrimental effects of unduly low inflation.
Deutsche Bank's capital-raising, in which it plans to issue shares worth more than $11 billion, suggests that banks are getting the message. By strengthening one of Europe's most interconnected financial institutions, the added equity can increase the resilience of the system as a whole. And it is likely to be followed by a more generalized round of capital-raising across the entire sector.
It is understandable that bank shareholders worry about dilution of their ownership and economic interests. Yet the alternative is worse. Anything less than a fully revamped banking system would expose them and the entire European economy to greater risks down the road, and would do so at a time when the popular standing of the sector is still very low and the political appetite for support is nearly exhausted. Better to build equity now than contend with bigger problems later.
This column does not necessarily reflect the opinion of Bloomberg View's editorial board or Bloomberg LP, its owners and investors.