Cantor Exits, Self-Deportation Returns
Eric Cantor's loss will drive the 2016 Republican presidential candidates to the right on immigration.
by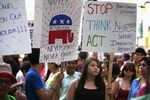 A likely implication of the shocking upset of House Majority Leader Eric Cantor yesterday will be to drive the 2016 Republican presidential candidates to the right on immigration.

That spells trouble for Jeb Bush, the former Florida governor, and Marco Rubio, Florida's freshman senator, who have been advocates of immigration reform. It plays to the strength of Senator Ted Cruz of Texas, who fought against the Rubio-sponsored immigration measure passed by the Senate last year.
The 2012 Republican nominee, Mitt Romney, made a calculation that he had to adopt an anti-immigration posture to get through the primaries, going so far as to raise the possibility of undocumented workers "self-deporting." Though the strategy earned Romney his party's nomination, it cost him in the general election: he received just 27 percent of the fast-growing Latino vote and was clobbered in Asian-American communities.
David Brat, the college professor who decisively defeated Cantor, hammered the incumbent for supporting amnesty for undocumented workers. The charge was false -- Cantor only embraced amnesty for their children -- but it worked.
Rubio has been trying to play down his key role in the Senate's expansive (and bipartisan) immigration legislation. It's doubtful the anti-immigration wing of the Republican Party, especially strong in the early-voting state of Iowa, will let him walk away from this part of his record. Ditto for Bush, who has long been pro-immigration reform, as have most members of his family.
This column does not necessarily reflect the opinion of Bloomberg View's editorial board or Bloomberg LP, its owners and investors.