Why Is Calling a Market Top So Hard?
Figuring out when a market has hit bottom is easy compared with knowing when it hits a top.
by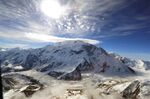 Each morning, I go through a similar routine: I wake up (no alarm clock), go to the kitchen to get a cup of coffee (this is my machineof choice lately), launch a script that opens 40 or so Firefox tabs. As part of my morning research, I quickly scan this series of websites to see what happened overnight, and what might be interesting.