Tyson's Sausage Deal Is Not Yet Fully Cooked
M&A bankers don't get to brag enough about auction design, but Hillshire's bankers seem pretty pleased with themselves.
by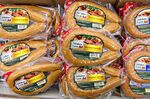 On Sunday, Hillshire Brands held an auction for itself. You can read the details of how the auction worked here and here and here, which makes sense: If you'd designed this auction, you'd be telling everyone about it too. Basically, Pilgrim's Pride bid $45 a share for Hillshire on May 27, Tyson Foods raised to $50 on May 29, Pilgrim's Pride re-raised to $55 last week, and Hillshire's advisers at Centerview and Goldman Sachs concocted a weekend auction in which Pilgrim's Pride stood pat at $55 and Tyson won with a bid of $63. That is about a 70 percent premium to Hillshire's unaffected $37.02 price; 21 points of that premium came from Sunday's bidding.
Is Tyson overpaying? Oh sure why not. By the rules of the auction, it would have won at $57.50 a share, so the extra $5.50 a share -- or $650 million -- is a pure oopsie. Tyson's stock is down over 10 percent, or around $1.2 billion, since the Sunday auction 1 and there's been a certain amount of gnashing of teeth and rending of garments among analysts. Last week Credit Suisse put out a note saying that "Tyson's best strategic move would be to walk away from the table at their $50/share bid and allow Pilgrim to take the risk of paying $55" and calculating "$1/share of value destruction for Tyson for every $2.50/share they pay beyond $47/share for Hillshire." 2 And on yesterday's conference call for analysts, I counted zero "congratulations" and a whole lot of worry about where synergies are going to come from and how Tyson could justify the price.
Of course, regardless what you think of valuation, congratulations might not have been in order. Maybe the weirdest thing about this deal is that it isn't a deal. Hillshire and Tyson haven't signed a merger agreement. They're not allowed to. A month ago, Hillshire signed a merger agreement to buy Pinnacle Foods, and that agreement is mutually incompatible with a Tyson deal: The Pinnacle agreement does not allow Hillshire to sign any deal to be acquired by anyone else, 3 and the Tyson offer is conditioned on Hillshire terminating its Pinnacle deal. Hillshire has no ability to terminate the Pinnacle deal unilaterally; it has to either let it go to a shareholder vote or negotiate an amicable termination with Pinnacle. The sticker price for a termination after the shareholder vote is $163 million, 4 plus the delay and annoyance of holding the shareholder vote, so presumably the price for an amicable termination would be ... higher?
So far Hillshire's being coy about its plans, saying yesterday that it "has not changed its recommendation regarding the Pinnacle merger and is not making any recommendation with respect to the Tyson offer." 5 That seems a little harsh to Tyson, which went out on a limb to overpay for Hillshire, no? It's particularly harsh because, as far as I can tell, Tyson made that offer without much due diligence. Here is a puzzling exchange from yesterday's conference call:
Diane R. Geissler, Analyst, CLSA Americas LLC: Well, I guess, not to take another follow up, but I will anyway, how much detail were they able to provide you if they were contractually obligated to Pinnacle? In other words, were they able to -- were you able to look through the books in some details in order to determine the $300 million synergy target?

Donald J. Smith, President & Chief Executive Officer, Tyson Foods, Inc.: No. But we've extensively studied kind of the history since the spin out and a lot of their documentation and a lot of the type of things that they've been talking about in terms of their synergy capture, and with what we know about our business and what we know about our Prepared Foods business and the raw material synergies between the pork segment, for example, and their business, you can put together a pretty decent story with the public information that makes us feel real comfortable about our ability. And then as we get further into the process, of course, we'll learn more and that will probably impact the timing and hopefully allow us to accelerate synergy capture.
Huh. So they didn't do any due diligence but made a binding offer of $7.7 billion, based on a "pretty decent story with the public information." 6
Usually the way an M&A auction works is, you have an auction, and then you sign a merger agreement with the winner. The signing of the merger agreement is actually a pretty important part of the process. If you just have an auction and at the end you're like, "okay, you guys bid $55, and you guys bid $63, so you win, congratulations," there are two unsettling possibilities:
The guys who bid $55 could come back and bid $65 -- and there'd be nothing to prevent you from hitting the bid.

The guys who bid $63 could come back and say, "you know what, we were kidding, it's $57.50" -- and there'd be no penalty for them backing out of their original bid.
Really, how binding is Tyson's unilaterally binding offer? There is no agreement, no breakup fees, nothing but Tyson's own statements. 7 What if Tyson had woken up on Monday to read all the gloating about how Hillshire got it to bid against itself, and all the whining from its analysts and shareholders about how it overpaid for Hillshire, and decided to do something about it? So far Tyson management seems pretty pleased with itself, but if you're a big Tyson shareholder surely you'd want to dig a bit deeper into Tyson's ability to revisit that price. After all, there's no deal yet, and you know the cover bid is only $55.
And what about the other scenario? Obviously Hillshire got a pretty rich price here, but what would happen if Pilgrim's Pride came back tomorrow and offered $65? Hillshire has taken great pains to make clear that it has no "letter of intent, memorandum of understanding, merger agreement or other agreement, arrangement or understanding" with Tyson. 8 This whole bid is just Tyson's "unilateral" frolic. If Hillshire gets a better offer tomorrow, it is under no obligation to Tyson.
On the other hand, if that happened, the advisers who got Hillshire the current great deal would be pretty miffed. That is just not how it's done: The auction rules are the auction rules. You have to stick to your agreements, even if you also have to pretend that those agreements aren't agreements at all.
To contact the author on this story:
Matthew S Levine at mlevine51@bloomberg.net
To contact the editor on this story:
Toby Harshaw at tharshaw@bloomberg.net
Before it's here, it's on the Bloomberg Terminal.
LEARN MORE