Slow Your Judgments on Fast Trading
High-frequency trading may be problematic, but it's best not to draw any hasty conclusions. 
by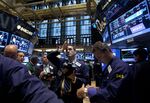 In a recent pair of articles (part I, part II), hedge-fund magnate Cliff Asness defended high-frequency trading against most of the attacks that have been leveled against it. Asness is known for his strong opinions. And while I'm generally on his side in this case, a careful reading of his articles shows that he may have overstated his case and we shouldn't be so quick to conclude that HFT is completely benign.