Medicare Can Afford a Bit of Fraud
Catching doctors who are sloppy in their billing might well be too costly.
by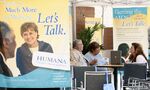 According to the inspector general of the Department of Health and Human Services, Medicare is overpaying for office visits and other patient evaluations. Overpaying a lot: "The inspector general's report, released today, estimates that overpayments account for 21 percent of the $32.3 billion spent on evaluation and management services in 2010."