McDonald's Is Losing U.S. Sales. I Blame Happy.
Creepy hipster Ronald McDonald and Happy, the terrifying kids' meal mascot, are clearly failing at the job. 
by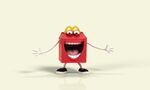 Creepy hipster Ronald McDonald and Happy, the terrifying new kids' meal mascot, are clearly failing at the job. May marked the seventh month in a row McDonald's saw no growth in same-store sales in the U.S.
If I were in charge of the McDonald's farm of weird "brand ambassadors," I'd have a message for the mascots: Ron, stop taking selfies and start focusing on the food. Happy, just stop. You're scaring away the next generation of Mickey D's fast-food loyalists.
In the U.S., sales at stores open at least 13 months fell 1 percent in the year ending in May. Company-wide, sales rose 0.9 percent, bolstered by 2.5 percent growth in the Asia Pacific, Middle East and Africa region and a 0.4 percent increase in Europe.


It's no surprise that McDonald's, which has more than 35,400 restaurants worldwide, is an increasingly global company. Just check out its unique international fare: You can find a Royale with Cheese in France, a McAloo Tikki in India and a Shaka Shaka Chicken under the golden arches in Singapore. The company has said it will spend about $3 billion to add 1,600 restaurants around the world this year. It's made a particular focus in China, where it's said it will have more than 2,000 restaurants by the end of the year, more than anywhere else except the U.S. and Japan.
Yet accelerating global expansion doesn't hide its struggles back home. McDonald's gets more than 30 percent of revenue from U.S. locations, and competition in this fast-food nation is pretty steep. Chains including Burger King and Taco Bell are offering discounts, promoting trendy new foods, and nibbling into McDonald's hold on the $50 billion breakfast market.
This is not to say that there's any immediate cause for concern. McDonald's is still managing to do more business at each location than rival burger chains. It's also spending a huge sum on advertising, more than the next four fast food restaurants chains combined.
Which brings us back to Happy. Nobody wants to take food from a box with teeth when they can drool over the masterpiece that is the quesarito. Here's a suggestion to win back American sales: Take the cheesy out of the mascots and put it into the food.
This column does not necessarily reflect the opinion of Bloomberg View's editorial board or Bloomberg LP, its owners and investors.
To contact the author on this story:
Kirsten Salyer
To contact the editor on this story:
Toby Harshaw at tharshaw@bloomberg.net
Before it's here, it's on the Bloomberg Terminal.
LEARN MORE