Brazil's Rousseff Goes Offside
Exploiting popular unrest, Brazil's Dilma Rousseff is trying to push through a decree that undermines the rules of electoral democracy.
by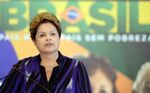 Bubble lights flashing, the federal police SUVs, army vehicles and motorcycle cops swept past Botafogo Bay. It wasn't an invasion, just the escort for England's World Cup squad, which happens to be training in my neighborhood. Nothing untoward befell the English in Rio de Janeiro that day. No carjackers or protesters on a rampage. No need to activate the air defense missile systems said to be on rooftops near Maracana stadium.