A Little Student Loan Debt Never Hurt Anyone
Driving down the interest rates on education debt should not be a policy priority.
by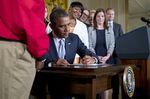 Student loans seem to be the same sort of evergreen political winner for Democrats that tax cuts are for Republicans. Every month seems to bring another plan to fiddle with student loans to make them less expensive for the students and more expensive for the government. Massachusetts Senator Elizabeth Warren has a bill out that would let student loan holders refinance at lower rates; President Barack Obama is signing an executive order to open up especially generous income-based repayment terms to millions more students, even if they don't have a financial hardship. My friend Mark Kleiman thinks that anyone who is paying attention to items like these has no choice but to become a fanatical partisan Democrat.