The VA Needs a Bureaucratic Ninja
Looking for someone who can run a sprawling health-care company on a budget? Try one of the big hospital chains.
by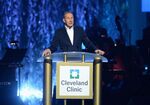 By pulling out of the running to be the next secretary of Veterans Affairs, Cleveland Clinic head Toby Cosgrove has given the administration a chance to think harder about what the VA needs most right now. Does it need an excellent director of an innovative, medium-scale health-care center? Or does it need somebody who can run an army of middle managers on a tight budget?
It isn't hard to see why Cosgrove's name was warmly received. One of the VA's most obvious problems is that veterans can't get doctor's appointments in a reasonable amount of time. The Cleveland Clinic is really good at that. But then again, it took in $4.7 billion in 2012 -- $300 million more than it spent, and enough to leave it with $2.7 billion in net assets. It is an organization with ample resources to devote to innovative care.
The contrast with the VA is stark. The agency's funding has more than doubled since 2003, but so has its caseload of veterans with the greatest levels of disability -- so-called Priority 1 patients. In fact, after adjusting for inflation, spending per Priority 1 patient fell from 2009 to 2012, when it was lower than in 2004. It also has a shortage of doctors, which is probably related to below-average pay.
(An agreement between Senators Bernie Sanders of Vermont and John McCain of Arizona would increase that funding, though it isn't yet clear by how much, or whether the proposal will become law.)
Another difference between the VA and the Cleveland Clinic is the type of patients it serves. The single largest group of VA patients is those known as Priority 5 -- veterans with no service-related conditions, but who qualify for VA care based on low income or are "catastrophically disabled." That group made up one-quarter of VA patients in 2012. The Cleveland Clinic, by contrast, serves some low-income patients through Medicaid and charity care, but that's not its focus; it had patients last year from more than 130 countries. It's a destination for people who can afford to go anywhere.
So the ideal person to run the VA is probably somebody who's comfortable operating under significant revenue constraints; somebody who's used to dealing with a patient population with high rates of poverty, chronic conditions, mental illness and substance abuse; and most important, somebody with experience managing a huge and far-flung health-care system with facilities across the country. Where would the administration find such a person?
A good start might be the nation's largest hospital systems, whose administrative and financial burdens look a lot like the VA's. Take, for example, Community Health Systems Inc., which runs 135 hospitals in 29 states, or the HCA, with 165 hospitals in 20 states.
What those companies are good at is precisely what the VA has to do better: Managing sprawling networks of hospitals, doctors and staff, on tight budgets, with large populations of poor patients, while meeting high expectations. Unlike the Cleveland Clinic, their primary goal isn't innovative care; it's keeping the vast machinery running properly.
Of course, recruiting the head of a for-profit company may strike some as inviting a culture clash. And for-profit hospitals haven't always been run by choirboys, especially in the case of HCA. But as the past few weeks have amply demonstrated, the VA could probably use a dose of business culture -- not just in terms of efficiently managing large numbers of staff, but acting as though patient satisfaction matters.
There's no reason to think that Cosgrove couldn't do all of these things. But whoever gets the nod to run the VA will need to figure out what sent the agency so far off track in the first place, and fix it with less money than seems necessary -- something that will be true even if the Sanders-McCain proposal takes off. That takes more than a good leader. It takes a bureaucratic ninja.
This column does not necessarily reflect the opinion of Bloomberg View's editorial board or Bloomberg LP, its owners and investors.