Angry LeBron Is the Best LeBron
 LeBron James might shrug off his critics in interviews, but he definitely hears them, using their opinions to fortify his game plan, not change it. 
by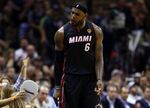 Angry LeBron James is the most dangerous LeBron James.
Sure, the Miami Heat star seemed pretty zen about the whole air conditioning debacle at AT&T Center during Game 1 of the NBA Finals, and even took a yoga class to prepare for Game 2. He brushed off the criticism he faced for sitting out with heat-induced cramps, telling ESPN's Michael Wilbon on Friday, "I'm the easiest target that we have in sports." Responding to those who questioned his commitment and toughness (read: masculinity), he asserted, "All I can control is what I control."
As we should be accustomed to by now, LeBron best expresses himself on the court, where he exerts maximum control. And so he came into Game 2 with a vengeance, answering his critics with a 35-point, 10-rebound performance and bringing the Heat back to Miami with a split. Mind you, this is a Spurs team that had only allowed an opposing player to put up at least 30 in four of 19 previous playoff games. As ESPN's J.A. Adande noted this weekend, it took LeBron eight postseason contests dating back to 2007 to score 30 against the Spurs.
Before Sunday night, he'd put up at least 30 against San Antonio three more times, all in last year's NBA Finals: Game 4, with Miami down 2-1 in the series, and must-wins in Games 6 and 7. To refresh your memory, LeBron's 33 points and 11 rebounds in Game 4 came right of the heels of the Heat's embarrassing and historic 113-77 loss, in which the Spurs had held him to 15 points and utterly stifled the rest of his team. He then put up 32 points, 10 rebounds and 11 assists in Game 6 with the Heat on the brink of elimination, following a Game 5 in which he struggled with his shooting, going 8-for-22 for 25 points. In Game 7, his 37 points and 12 rebounds led Miami to its second straight title.
There's a pattern here: LeBron's performance Sunday night was just the latest in his career of being the ultimate stopper, the driving force in the Heat's remarkable run of 47 playoff games without consecutive losses. As Sports Illustrated's Ben Golliver noted heading into Game 2, "Miami had won its last 12 straight postseason games after a loss by an average of 15 points." In those so-called "bounce-back games," LeBron had averaged 29.8 points, 7.8 rebounds, and 6 assists. He carries the mantle when his team needs him the most.
But for all his talents, perhaps his greatest asset isn't his ability to put on a one-man show -- it's his often-maligned instinct to give up the big shot to a teammate with a better look. His big night was capped off by a pass to Chris Bosh in the corner with 2:07 left in the fourth that allowed the Heat big man to drill a three and put Miami ahead for good. It was the mirror image of the play in Game 5 of the Eastern Conference Finals against Indiana that drew heavy criticism after Bosh missed the shot with 4.9 seconds remaining and the Pacers squeaked out a 93-90 win. But LeBron stuck to his guns -- or, rather, Bosh's -- making good on his philosophy to make the right play no matter what the skeptics might say.
"It's the theater of the absurd when you're dealing with what plays he makes at the end of the game," Erik Spoelstra said after the game. "He makes the right basketball play. We trust him to make the right plays."
LeBron might shrug off his critics in interviews, but he definitely hears them, using their opinions to fortify his game plan, not change it. Like all the greats before him, LeBron continues to trust his instincts and his teammates as the series begin in earnest Tuesday night in Miami.
(Kavitha A. Davidson is a Bloomberg View columnist who writes about sports. Follow her on Twitter at @kavithadavidson.)
This column does not necessarily reflect the opinion of Bloomberg View's editorial board or Bloomberg LP, its owners and investors.