Putin and Obama Don't See D-Day the Same Way
Recent speeches about World War II by the Russian and U.S. presidents reflect not only different mythologies but different experiences of a war that isn't fully over. 
by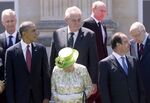 The speech U.S. President Barack Obama gave to commemorate the D-Day landings in Normandy today was powerful if a little on the purple side -- and most interesting when compared to those given recently by Vladimir Putin, president of Russia, which was America's ally in World War II.

Obama's address told the story of the war in the way Americans understand it: a morality tale in which the U.S. comes to the aid of its allies to ensure "the survival of liberty at this moment of maximum peril." There's some truth to this mythology.
The U.S. president wove his narrative using the stories of individual Americans who were willing, as Obama said, "to lay down their lives for people they had never met and ideals they couldn't live without." He told the stories of some of the D-Day veterans present and of his grandfather.
He described D-Day as "democracy's beachhead," the start of a long U.S.-led march to spread democracy across the globe, one that continued through the collapse of the Soviet Union and -- though he didn't spell it out -- extends to Ukraine today:
The United States of America is and will remain the greatest force for freedom the world has ever known.
Putin attended the D-Day celebrations, to the dismay of some given recent events in Crimea. He didn't give a speech, but he did talk about World War II in recent Victory Day addresses, one on Moscow's Red Square and another in Crimea.
These were much less ornate than Obama's (Putin doesn't do poetry). There were no individuals in his tale of collective, national sacrifice -- just "comrades, officers and admirals." There was no claim to a selfless calling to spread liberty and democracy around the globe but rather a grim and glorious mission to destroy fascism and protect the homeland:
This is a holiday that demonstrates the winning power of patriotism, the day when all of us become emotionally aware of what it is like to be devoted to the Motherland and how important it is to defend the country's interests.
Nor did Putin mention the role played by other allies in the fight, or indeed of D-Day, where even the "blood-soaked" water evoked by Obama paled by comparison to losses suffered on the eastern front:
The outcome of all of World War II was determined in the brutal battles of Moscow and Stalingrad, Kursk and Dnieper.
There is some truth to this Russian mythology of the war, too. Yet Putin's is an essentially backward and inward looking story of a war with still-unfinished consequences for Russia, to which Obama's expansive U.S. narrative poses a threat.
In Putin's vision, the Soviet armies rescued Eastern Europe from "slavery." Its liberation from that rescue in 1989 was at best bittersweet. Now the complex relationship Ukraine had to the Soviet Union is unraveling, too. Speaking in Sevastopol on Victory Day, Putin didn't speak of spreading freedom to Crimea. He talked about their shared history of sacrifice for Mother Russia.
These aren't just two different mythologies of World War II and how it ended. They were in many ways different wars, neither of which is fully over.
This column does not necessarily reflect the opinion of Bloomberg View's editorial board or Bloomberg LP, its owners and investors.
Editors: Marc Champion, Lisa Beyer
To contact the author on this story:
Marc Champion at mchampion7@bloomberg.net
Before it's here, it's on the Bloomberg Terminal.
LEARN MORE