Obama, Putin and Hollande's Awkward Dinner Party
French President Francois Hollande is trying to find a way out of the Ukraine crisis, but France's credibility on this front is undermined by its contract to sell Russia two Mistral-class amphibious assault ships.  
by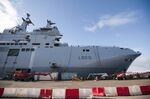 French President Francois Hollande will eat dinner twice tonight, first with his Russian counterpart Vladimir Putin and again with U.S. President Barack Obama. He will do so as a go-between trying to secure a way out of the Ukraine crisis.
It's an honorable effort. Yet France's credibility as a problem-solver on this front is undermined by its $1.9 billion (1.4 billion euro) contract to sell Russia two Mistral-class amphibious assault ships with an option to license Russia to construct two more. The U.S. has been urging France to cancel the sale, to no avail.
Why is this such a serious issue? A synopsis of the ships' capacities makes that clear.
The Mistral is like a small aircraft carrier. It is "quite difficult to build, enormously complicated and very potent," says Peter Roberts, a former commander in the British Royal Navy and senior research fellow at the Royal United Services Institute think tank in London. "It's a one-stop shop for intervention."
The Mistral's first function is to deliver helicopters, either for close support or to bring troops to the front. Each ship can carry 16 large helicopters, with six on deck at a time. Each wave of six can carry up to 250 troops 125 miles inland, before returning to pick up more. As soon as the first wave leaves, the next six helicopters are brought up from the hangar in elevators. The ship can accommodate 700 troops plus crew in basic comfort.
The second function is to land amphibious craft. Four such craft are loaded in the rear of the ship. As the ship approaches shore, the stern submerges slightly, like a parked Citroen car, so that the bay floods and the craft float out. These craft can be used to beach the 59 assorted armored vehicles or 40 battle tanks the Mistral can carry.
The Mistral also serves as a 69-bed hospital ship for casualties returned from the front. Finally, and perhaps most important for Russia, it also has a 9,000-square-foot state of the art, command-and-control center from which up to 200 staff can direct an expeditionary force.
Russia signed the contract for the ships in 2009, just a few months after its brief war with Georgia. Famously, the admiral in charge of landing Russian troops and hardware in Georgia from the sea, Vladimir Vysotsky, said that if he had had the Mistral carriers then, he could have achieved in 40 minutes what took him 26 hours.
We don't really know Russia's intentions for the ships, the first of which is due for delivery in October. They have been built with reinforced hulls and heated decks so they can be used in the Arctic. A 130-page thesis on the Mistral sale written by a U.S. naval officer in 2011 concluded that the ships probably wouldn't be stationed in the Black Sea, that Russia at the time lacked the helicopters and landing craft to fully equip the ships, and that amphibious assault did not therefore appear to be the primary purpose of buying them.
At the same time, the report noted that Russia's 2008 intervention in Georgia highlighted deficiencies the Mistrals might have addressed. For example, command and control was atrocious, and Russia took up to three days to get attack helicopters to the battlefield for close support of its troops because they couldn't fly fully armed over the Caucasus mountains.
Russia's determination to modernize its military has become increasingly clear in the last few years, while its behavior has become less predictable. So it would be foolish to assume that Russia won't build what it needs to equip its new ships, or that the capabilities of the Mistrals would not be put to use in some future military adventure against neighbors.
This column does not necessarily reflect the opinion of Bloomberg View's editorial board or Bloomberg LP, its owners and investors.