History Lesson on What ECB Can Do to Euro
Today's ECB rate decision may turn out to be a non-event for the currency markets.
by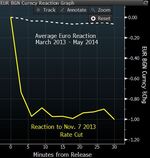 What will the euro do after today's well-flagged interest-rate cut from the European Central Bank? If I knew, I'd be heading for my yacht in Monaco rather than driving a desk in London. For what it's worth, though, here's a historical guide to euro performance in the first half-hour after the central bank's monetary-policy pronouncements:

Now, there's a huge caveat to letting the chart persuade us that the euro is headed for a 1 percent drop against the dollar if Mario Draghi makes good on the promise he made last month. Back in November 2013, the rate cut was a big surprise; it was anticipated by only three out of 70 economists in a Bloomberg News survey.
For today's decision, 44 of 50 economists expect the ECB to cut its deposit rate to a negative from zero; the median estimate is for the central bank to charge financial institutions 0.1 percent for the privilege of keeping cash on deposit with it.
So an alternative takeaway from the chart is that the euro typically ignores ECB decisions that meet the market consensus, meaning today's outcome may be a non-event for the currency market.
This column does not necessarily reflect the opinion of Bloomberg View's editorial board or Bloomberg LP, its owners and investors.