GM Takes the Road Already Traveled
In a crowded, competitive market for cars, it's almost unthinkable that a major automaker could display such indifference to customer safety and stay in business.
by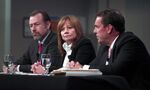 Since the moment its safety scandal began, General Motors Co. has been caught between two competing needs. On the one hand, it has to regain the public's trust after waiting more than a decade to recall a deadly defect. On the other, it has to avoid as much liability and public-relations fallout as possible.
Judging from the company's history, one might have expected GM to err on the side of candor. As Chief Executive Officer Mary Barra said during today's news conference, the investigation she ordered into the ignition-switch scandal showed a need for fundamental cultural change. And yet, after an employee "town hall" and the news conference about lawyer Anton Valukas's report, reporters were surprised to find that GM was not actually releasing the report to the public or the news media. The National Highway Traffic Safety Administration eventually released a redacted copy of the more-than-300-page report, but by then GM's executives were far away from the assembled media.
Clearly, GM opted to err on the side of caution rather than accountability. That could become a real problem, because Barra's message -- that the report's shocking revelations would create a new, better, more customer-focused company -- is not exactly fresh ground. Just five years ago, visions of a General Motors transformed helped sell its unpopular bailout. That was preceded by almost 50 years of executives arguing that the next vehicle or annual report would be the herald of GM's return to greatness. If ever there was a moment for GM's road-to-Damascus moment -- well, it was in 2009. But if ever there was a second great opportunity for GM to take full accountability -- in the hope of halting decades of lost public trust -- it would be this report.
Barra's assessment of Valukas's findings as "brutally tough and deeply troubling" was almost an understatement, given the "pattern of incompetence and neglect" that led to the deaths of at least 13 people. The basic technical problem identified by Valukas strains credibility: "sophisticated engineers with responsibility to provide consumers with safe and reliable automobiles -- did not understand one of the most fundamental consequences of the switch failing and stalling: the airbags would not deploy."
Documenting GM's various quality and safety investigations, Valukas notes that none discovered what far less well-equipped outside researchers did. Even after 11 years of "no demonstrated sense of urgency," the committee that ordered the recall of vehicles, which included the Chevrolet Cobalt, deferred in December 2013 its decision for another six weeks. In a crowded, competitive market for cars, it's almost unthinkable that a major automaker could display such indifference to customer safety and stay in business.
This culture of ineptitude also helped keep the ignition issue away from GM's senior leadership. Barra, head of product development Mark Reuss and General Counsel Michael Millikin never received e-mails directly relating to the ignition issue. Valukas cites a 2013 survey from CEB, a research and consulting firm, that included reports where "in a different context than the Cobalt," supervisors warned employees "to 'never put anything above the company' and 'never put the company at risk,'" and that "a small number of participants also suggested a fear of retaliation." Notes routinely weren't taken in meetings due to a perception that lawyers didn't want notes to be taken, but Valukas couldn't find that policy stated anywhere and calls it an "urban myth." One settlement with victims was made for precisely $5 million, the highest number GM could pay out without sign-off from Millikin. Amid the "pattern of incompetence and neglect" that Barra identified is another pattern: convenience.
Still, even if GM's current leadership didn't know about the ignition problem, they couldn't have been unaware of the company's broader cultural issues. Revelations in the report of phenomena such as the "GM salute" ("a crossing of the arms and pointing outwards towards others, indicating that the responsibility belongs to someone else") and the "GM nod" ("when everyone nods in agreement ... but then leaves the room with no intention to follow through") show that these problems were well enough understood by employees to have their own nicknames.
Barra herself mentioned the "GM nod" to Valukas, who noted, "It is an idiomatic recognition of a culture ... that does not move issues forward quickly, as the story of the Cobalt demonstrates." What isn't resolved is the tension between Barra's status as a more-than-30-year veteran of that culture, her insights into its perverse manifestations such as the "GM nod," and her professed shock at the contents of the Valukas report. The fact that it took such a breathtaking scandal to convince Barra to do something about such obvious problems is hardly reassuring for investors or consumers.
In light of these cultural issues, GM's decision to fire 15 employees seems about as likely to have an effect as the $35 million fine it has agreed to pay NHTSA (not much). Besides the two engineers who had already been suspended with pay since April 10, the other 13 employees who were fired and five others who were disciplined were not identified by Barra (a Bloomberg News source reports that GM's top recall lawyer, Bill Kemp, was among those fired). Surely, the forthcoming investigations by Congress, the Department of Justice and NHTSA will do more to identify individual responsibility where it may exist. But GM's unwillingness to name and shame wrongdoers perpetuates the firm's "never put anything above the company" code of loyalty that is at the heart of the ignition problem. By leaving questions of individual responsibility to the legal system, GM has outsourced accountability.
But then, it's hard to see how even GM could see the Valukas report as independent. Before it came out, GM created a new position -- vice president of global vehicle safety -- and a new group, the Global Product Integrity unit, which was one of the report's key structural recommendations. Not only did Valukas have to suggest major changes to GM's structure to prevent problems like the ignition switch from falling through the cracks again, but he also had to give its top executives the opportunity to "get out in front" of his supposedly independent report.
One has to wonder how much Valukas's structural changes would even make, when he has to preface them with the most straightforward and obvious prescriptions, such as "an organizational emphasis on and commitment to safety is a critical component to mitigating the risk of a situation like this recurring" and "all employees have responsibility for raising safety issues." If GM needs to hear these kind of statements from its lawyer, especially after five decades of market-share decline, there's a real risk that it's too little, too late.
This column does not necessarily reflect the opinion of Bloomberg View's editorial board or Bloomberg LP, its owners and investors.