Brazil's Unhappy? Tell That to Soccer Fans
Pessimistic opinion polls from Brazil tell only half the World Cup story.
by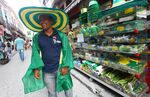 A new Pew Research Center poll on Brazil has Latin America's biggest nation in a lather. With the World Cup just days away, 72 percent of the country reported "dissatisfaction" over the direction of the country. Two-thirds said the economy stinks, and 6 in 10 believed that the World Cup will be bad for Brazil. And that was just the beginning.