Volatility Dies, Hedge Funds Lose
The strange death of volatility may be sowing the seeds of the next financial crisis.
by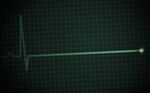 Since I wrote about the death of market volatility, first onMay 1and then again on May 13, others have weighed in on the issue. There's a growing consensus that not only is the disappearance of price swings hard to explain, it may prove downright dangerous at some point.
To summarize: volatility has fallen to record lows in stocks, bonds and currencies. Here's the relevant chart showing the Chicago Board Options Exchange VIX index, Merrill Lynch's MOVE index of U.S. Treasuries, and Deutsche Bank's Currency Volatility index: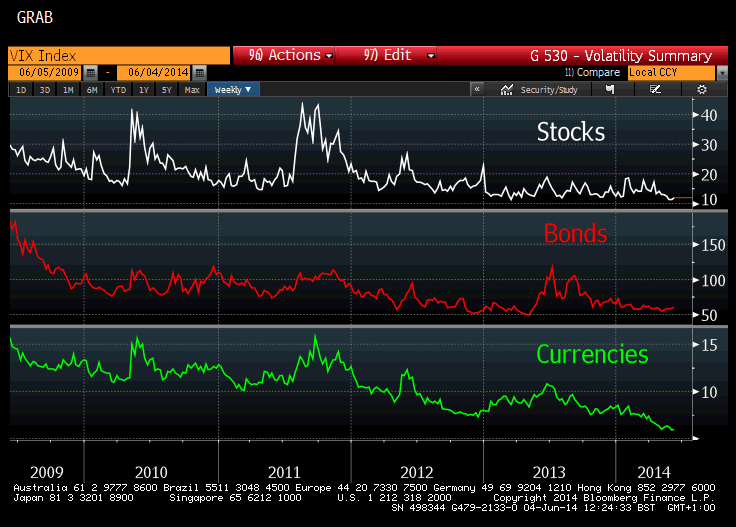 On May 22, theEconomist argued that smaller swings in growth and unemployment combined with zero interest rates at many central bank have artificially suppressed market-price movements; "by squeezing out short-term volatility, we may be storing up long-term volatility." On May 29, Gillian Tettsuggested in the Financial Times that "markets have been so distorted by heavy government interference since 2008 that investors are frozen."
Last week, Goldman Sachs President Gary Cohn bemoaned"abnormal"market conditions. "What drives activity in our business is volatility," Cohn told a May 28 investor conference in New York. "If markets never move or don't move, our clients really don't need to transact." His colleague David Kostin, the bank's chief equity strategist, explained to Bloomberg Television that day how that's hurting hedge funds, because a narrower dispersion of returns means "the opportunity set, the sand box, the swimming pool is very, very small."
In other words, as the gaps between the best- and worst-performing securities narrow, even the smartest traders will struggle to make money. Here, for example, is a table I calculated showing the potential monthly profits available in the corporate bond market since 2010:

Bloomberg reporter Michael Regan, writing about Kostin's comments, did a similar exercise for stock picking:
"The biggest gain among consumer-discretionary stocks over the past three months has been a 10 percent advance in Nordstrom Inc. and the biggest loss has been a 17 percent drop in International Game Technology. That 27 percentage point dispersion of returns compares with a 71 percentage point difference during the same period last year, according to data compiled by Bloomberg.
Goldman Sachs' basket of the 50 stocks favored by hedge funds has underperformed the Standard & Poor's 500 Index by about 2 percentage points so far this year after beating the market for 13 straight years, according to Kostin."
While this analysis is a simplified view of how traders generate profit, ignoring their ability to use leverage and derivatives such as options to amplify returns, it does illustrate one of the side effects of waning volatility. If financial types respond by heading to the sidelines until the distortions central banks have wrought on price information dissipate, then the "New Neutral" will persist; if they respond by trying to find more ways to game the system and take on additional risk, the death of volatility could be sowing the seeds of the next financial meltdown.
This column does not necessarily reflect the opinion of Bloomberg View's editorial board or Bloomberg LP, its owners and investors.