Mississippi Runoff Would Be Democrats' Big Break
Democrats think they may have a gift, the next Todd Aiken, enabling them to retain control of the Senate next year.
by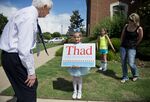 Democrats think they may have a gift, the next Todd Akin, which would enhance their prospects of retaining control of the U.S. Senate.
He is Mississippi Republican state legislator, Chris McDaniel, a right-winger who appears to have forced incumbent Senator Thad Cochran into a runoff. With only a few precincts to be counted, McDaniel had a little less than 50 percent of the vote and a one-point lead over Cochran. The general history of Southern runoffs is not favorable to incumbents who fail to get half the vote the first time.
Round 2 is slated for June 24, although that could run afoul of some legal requirements that there should be more than three weeks between the initial and the final votes. If the 76-year-old Cochran wins he seems a near certainty in the general election. But if McDaniel, 41, prevails, Democrats believe that makes it a very competitive race for their candidate, Travis Childers.
More worrisome for Republicans is the possibility that McDaniel becomes their 2014 version of Todd Akin, the Missouri Senate candidate two years ago whose extreme views -- talking about "legitimate rape" -- cost his party the seat and forced Republicans on the defensive in races elsewhere. Democrats say support for McDaniel may offer a similar litmus test.
They have ammunition. For starters, he's spoken to in front of and praised the Sons of Confederate Veterans. That's likely to embarrass Republicans nationally; Democrats would use it as a vehicle to energize turnout among blacks, likely to be crucial in Mississippi and several other senate contests. In Mississippi, blacks comprise anywhere from 30 percent to more than 35 percent of the electorate; the higher end of that range, fueled by McDaniel, would augur well for Childers.
McDaniel, a member of the ultra-conservative caucus in the Mississippi Legislature and a former radio talk show host, has given critics other ammunition too. He has referred to Latino women as "Mamacitas" which, he explained, means "hey hot mama."
Potentially most lethal was an effort by some activists to sneak into a nursing home and photograph Cochran's wife, who is suffering from dementia. One of the suspects, law enforcement officials said, has links to McDaniel campaign, which denies any involvement.
On substantive issues, McDaniel's views are pretty standard right-wing conservative. He might give Democrats a slight opening with suggestions that Social Security has to be pared back or it'll go bankrupt, and that President Lyndon B. Johnson created a "permanent underclass" who function "under the weight of a vicious cycle of lawlessness and dependency."
Democrats acknowledge a campaign against Cochran will be futile. Childers, 56, was a two-term conservative Democrat in Congress. These same Democrats now believe against McDaniel he would havea real shot at picking up 20 percent to 25 percent of whites turned off by the Republican's extreme positions and the ugly campaign against Cochran.
Before the primary, national Republicans admitted they were nervous over a possible McDaniel upset. They particularly feared the "Akin effect," whereby his views would force other Republicans to either embrace or repudiate McDaniel. Still, the general feeling was McDaniel likely would squeak through in such a heavily Republican state.
Actually, with a huge African-American population, Mississippi is not as red, or Republican, as it its neighbors, Alabama, Arkansas and Tennessee. In these three states, Barack Obama got less than 40 percent of the vote in the last presidential election; he got 44 percent in Mississippi.
Democrats currently hold a 55-to-45 advantage in the Senate; Republicans need a net gain of six seats to take control. There's a general consensus they will win at least two or three now held by Democrats; those prospects improved yesterday when Joni Ernst, a state legislator and farmer's daughter, easily won the Republican primary in Iowa to face Democrat Bruce Braley in November. There are another half dozen contests up for grabs.
This column does not necessarily reflect the opinion of Bloomberg View's editorial board or Bloomberg LP, its owners and investors.