Kiss Gold Bull Market Goodbye
Gold has declined for more than two years and no end is in sight.
by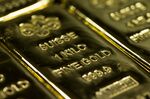 In the beginning of this year, we looked at some of the trading errors commonly made by gold investors during this cycle. At the time, gold had fallen 38 percent from its 2011 peak. Yesterday, spot gold traded at less than $1,242 before closing slightly higher.

Gold is hitting new multiyear lows relative to the Standard & Poor's 500 Index. J.C. Parets, a technical analyst at Eagle Bay Capital, notes: "This downtrend has been very strong over the past 30 months and is hard to fight." See the following chart:

The key support level, according to Parets, is $1,180. Spot silver has already broken its major support level of about $19. Parets adds that this break in silver could auger a further decline for gold as well, including the mining companies. If you must be long on a precious metal, Parets suggest you consider palladium as an alternative to gold or silver.
The driving force in the technical weakness of gold has been the rally in the U.S. dollar, which Parets describes as potentially an "epic squeeze." Historically, there has been a reliable negative correlation between precious metals and the dollar.
Expectations for a snapback rally have failed to materialize. After falling by half in 2013, the gold-mining stocks staged a rally at the start of this year. Market Vectors Gold Miners ETF is up 14 percent year-to-date; it was down 55 percent in 2013. SPDR Gold Shares lost about a third of its value in 2013. So far this year, it is up about 7 percent. This collapse in 2013 led to a round of forecasts that a gold bottom was in the offing, and that investors should expect higher prices in 2014.
So why has the rally in precious metals been notable mainly for its absence? There are several reasons:
1. Economic stability: Following the tumult of the financial crisis, the past five years have been relatively stable. Growth has been steady, albeit modest. The 1 percent decline in gross domestic products in the first quarter was chalked up to the worst winter in a half-century. Other data suggests significantly better numbers for the second quarter.
2. U.S. dollar rally: In the 2000s, the U.S. dollar index declined 41 percent. That helped gold prices soar. Since then, the dollar has been one of the stronger major currencies, providing a significant headwind to precious metals.
3. Low inflation: Despite ominous forecasts of hyperinflation, there has been only a modest increase in consumer price index. For five years, inflation has been a no-show. That removed a major rationale for gold ownership.
4. Geopolitics: Even with all of the turmoil, the fear trade hasn't caught on. Sure, the first half of this year has seen lots of regional skirmishes, but they remain local. The Ukraine crisis seems to be mostly a Russian affair, while disputes between China and its neighbors are specific problems to Asia. Yes, it always seems like we are on the verge of war breaking out somewhere, but geopolitics has been a minor this year.
5. No equity crash: The long-awaited bubble popping hasn't occurred. Expectations are that once this finally happens, investors will flock back to the precious metals.
The bottom line seems to be that all of the factors that led to the huge rally in gold from 2001-2011 are no longer present.
This column does not necessarily reflect the opinion of Bloomberg View's editorial board or Bloomberg LP, its owners and investors.