What Does 'Immigration Reform' Mean to Republicans?
Mitt Romney said he wants immigration reform passed. He just didn't mean it.
by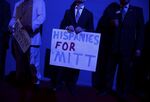 Latino Decisions has a new poll out today showing 71 percent of registered Hispanic voters saying it's "extremely" or "very" important for Congress to pass immigration reform. Like previous polls, it also shows that if House Republicans pass reform legislation, more Hispanics say they will consider supporting Republicans.

Trouble is, even if Republicans manage to pass something (and I still think they might), their definition of "reform" is growing increasingly distant from that of many Hispanic voters. (See this 2013 Latino Decisions poll, and this one.) Specifically, it seems unlikely that Republicans will offer a viable legal path to 11 million undocumented immigrants already here.
Here's a case in point: Last week brought news that former Republican presidential candidate Mitt Romney now supports "reform."
"I do believe it's important for us, before the presidential contest in 2016, to finally have immigration reform in place," Romney said in Iowa, according to the Des Moines Register. "I just don't think it's healthy for the country to continue to have this issue open and unresolved, particularly with so many families that are waiting for the answers.
But the Des Moines Register added that Romney said undocumented immigrants "should not be given a special pathway to citizenship or permanent residency."
The alternatives to a "special pathway" are either continued legal limbo or Romney's classic formulation from the 2012 campaign -- "self-deportation." Neither of these will thrill Hispanic voters. And Romney is voicing the moderate Republican position. "So long as the immigration bill allows people to be legal residents and apply for citizenship when they are eligible (12 years?) then we are all on the same page," said Latino Decisions pollster Matt Barreto, via e-mail. "If 'reform' does not include full legal status with an opportunity to naturalize, then it is not real reform, it is creating permanent second class citizens."
According to this Latino Decisions report from May, 63 percent of registered Hispanics know someone who is undocumented. Almost 40 percent know someone facing deportation or detention due to immigration. What would Republicans offer those people? Permanent relief for youthful Dreamers and more high-skills visas would no doubt be appreciated. But if there is no relief for the vast majority of undocumented immigrants already in the country, it's hard to see many Hispanic voters crediting Republicans for "reform."

This column does not necessarily reflect the opinion of Bloomberg View's editorial board or Bloomberg LP, its owners and investors.