The NBA Finals Are Officially Boring
The 2014 NBA playoffs have thus far seen an exciting brand of basketball that even fans of long-eliminated teams could appreciate. That ends now.
by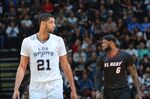 The 2014 NBA playoffs have thus far featured back-and-forth contests with last-minute heroics and the prospect of major upsets in almost every round. The result has been an exciting brand of basketball that even fans of long-eliminated teams could appreciate.
That ends now.
The Miami Heat and San Antonio Spurs will meet up in a rematch of last year's final, a heavyweight bout between two league titans that you probably don't care about if you're not from Florida or Texas. There's no surprise here: These are the teams most people picked to win their respective conferences, both in preseason and postseason polls, because whatever happens in the regular season doesn't actually matter. And so we get the most boring final possible, thanks to the NBA's ability to fool us into thinking the league actually has parity.
To clarify, I'm not talking "parity" in the purest sense of the term. Yes, Miami and San Antonio are no New York and Los Angeles when it comes to market size, ranking 16th and 36th, respectively. And if you look at the New York Knicks, Los Angeles Lakers, Chicago Bulls and Boston Celtics, the fact that many of the richest teams from the biggest markets with dynastic histories were nowhere near the playoffs this year might cause you to conclude that the NBA doesn't throw favor to some teams over others.
But let's put this in perspective: The Heat are competing in their fourth straight finals, vying for the elusive three-peat. Meanwhile, the Spurs -- and Tim Duncan -- are no stranger to the big stage, either. Duncan and Spurs coach Gregg Popovich are looking for their fifth ring together. The Spurs and Lakers have combined to win 13 of the last 16 Western Conference titles. Since 1980, just nine teams have taken home the Larry O'Brien trophy. In the same time period, 16 NFL teams have won the Super Bowl and 16 NHL teams have won the Stanley Cup. And Major League Baseball -- the example we all like to tout as the enemy of equality, mostly because of the Yankees -- has had 20 different champions since 1980.
Indeed, if you want exciting, unpredictable postseason action in June, you should switch over to hockey.
Parity was a big part of the discussion in the 2011 lockout, as owners fought for a hard salary cap and increased luxury tax, while players pushed to keep the soft cap. The compromise in the new Collective Bargaining Agreement was a harsher luxury tax while maintaining the soft cap and maximum salary restrictions on individual contracts. But that did little more than pay lip service to the idea of actually furthering competitive balance. Many agree that the way to do that would be to get rid of the individual restriction, to allow players to earn their fair market value, while maintaining the team cap. This would prevent the stockpiling of talent like we've seen with the Big Three in Miami; superstars such LeBron James would make what they're worth, leaving less money available to spend on support players.
For a league as superstar-driven as the NBA, those superstars should come at a premium, especially given the disparity between them. You wouldn't think of basketball as lacking in the talent pool, but take a look at the dropoff in Win Shares once you get past Kevin Durant and LeBron. There simply isn't enough top-level talent to go around.
This season highlighted another increasing problem in the parity discussion: the conference disparity. Never has the West's overall supremacy over the East been more apparent than now, with the Western Conference playoff bracket filled with winning teams while the Eastern Conference bracket was rounded out by the sub-.500 Atlanta Hawks. In April, Grantland's Kirk Goldsberry offered a solution to playoff seeding arbitrarily based on geography, advocating for true seeding based on regular-season record. That would at least give us more competitive match-ups and a higher chance for an upset than allowing teams like the Heat to coast through a top-heavy conference.
Until then, LeBron's famously haughty prediction that his Heat would win "Not one, not two, not three" titles will increasingly sound like a threat rather than a promise to those of us living outside of South Beach.
(Kavitha A. Davidson is a Bloomberg View columnist who writes about sports. Follow her on Twitter at @kavithadavidson.)
This column does not necessarily reflect the opinion of Bloomberg View's editorial board or Bloomberg LP, its owners and investors.