Tea Party Is About Power Not Conservatism
The attempt to unseat Thad Cochran, the impeccably conservative Mississippi Republican senator, shows the Tea Party has adopted the establishment's ethos of winning at all costs. 
by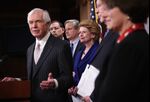 The Tea Party used to have a point, if not a platform: Washington needed more public officials of conservative beliefs who embraced small government, limited spending and low taxes.

Now an incumbent can embrace all those beliefs and still be vulnerable to a Tea Partychallenge. That's what is happening to Senator Thad Cochran of Mississippi, whose future will be determined by a primary today.
It's a strategy that Governor Phil Bryant said made about as much sense as "cutting Peyton Manning, you know, because he's been playing football too long." Yet staying on the field is all the Tea Party needs to justify replacing a perfectly conservative Republican incumbent with a perfectly conservative Tea Party Republican.
Cochran has a near perfect rating from, and support of, the National Right to Life Committee, myriad farm groups and the National Rifle Association. By his count, he has voted against the dreaded Obamacare 100 times. The worst thing you could say about him is that he hasn't said enough bad things about President Barack Obama and brought way too much money home to Mississippi.
His Republican challenger is a lawyer and two-term state senator, Chris McDaniel, 42. He's campaigning on limited government, free enterprise, reduced taxes and strong defense, and against Obamacare, which is pretty much the same as Cochran. McDaniel promises you won't catch him "going up to Washington to join hands across the aisle," a variation on Republican Senator Ted Cruz of Texas who promised not to make any friends in the Capitol.
Cochran has the backing of most present and past officials in the state, including former Governor Haley Barbour and former Senate Majority Leader Trent Lott. McDaniel has imported his supporters, who include former Senator Rick Santorum of Pennsylvania former Alaska Governor Sarah Palin and Florida Senator Marco Rubio along with much of his money, including more than $2.4 million from the Club for Growth.
McDaniel is so extreme on spending that he doesn't want lawmakers to have the temptation of having any money to spend. He has said he would have rejected the billions in disaster relief funds for Hurricane Katrina. This was a bridge too far -- even for the Tea Party. Thanks to the money Cochran delivered and Barbour's efficient deployment of it, Mississippi was hailed for its fast recovery.
McDaniel's staff quickly amended his remarks, saying the candidate meant he would have rejected the pork-barrel spending hiding in the disaster relief, though without specifying how he would have separated the good money from the bad in time to bail out the people underwater in Biloxi. Cochran has brought about $5 back home for every $1 Mississippians send to Washington -- McDaniel likens that to a drug habit or welfare.
For a while, McDaniel had a slight edge thanks to the purity of the activist base and an expected low turnout. Then the race took a bizarre twist. Four men -- including two with connections to McDaniel and the Central Mississippi Tea Party -- were arrested after a break-in at the nursing home where Cochran's wife, who suffers from dementia, has lived for more than a decade. A video of her was posted on the Internet.
McDaniel said he had nothing to do with the incident and there's no evidence he did, but the initial response was clumsy. Cochran said the matter is in the hands of the local officials.
The motive seemed to be to show Cochran's bedridden wife in contrast to a healthy Senate aide who is said to accompany him on official trips. The publicity surrounding the arrests pushed the rumor into the open.
That sounds like good, old-fashioned dirty politics. Congratulations Tea Party, like so many movements, you've become the thing you hate. The wasteful spending that gave birth to the movement? Its leaders are doing it, too. In April, the Washington Post and the Sunlight Foundation found that while urgent appeals to small donors filled the coffers of the six major Tea Party organizations with about $37.5 million, only $7 million went to directly helping candidates. The rest was spent on consultants, polling and appeals for more money.
The Tea Party wants to perpetuate itself, move aside those it agrees with on principle to get its own followers into power, and do it by adopting the bad habits of politicos it seeks to replace. Other than bringing appropriations to the state and longevity, there is no big ideological difference between McDaniel and Cochran. The latter is a scalp to hang on the wall, alongside those of Senators Robert Bennett and Richard Lugar, and a consolation prize for the Tea Party's failure to unseat Senate Minority Leader Mitch McConnell in Kentucky.
In today's Republican primary in Iowa, the movement has sought to blur the lines between itself and the establishment. In mid-May, Republican state legislator Joni Ernst pulled ahead of the Tea Party favorite with an unusual ad that claimed she would use her bull-castrating skills to make Washington squeal.
As Ernst looked like the best candidate to beat Democrat Bruce Braley to fill the seat of retiring Democratic Senator Tom Harkin, Palin and the hard-right Senate Conservatives Fund backed her, finding themselves on the same side as Mitt Romney and the Chamber of Commerce. If Ernst gets more than 35 percent of the vote, the Republicans can avoid the spectacle of an anything-can-happen state convention.
The Tea Party hasn't put up a Todd Akin or Christine O'Donnell this time. Its leaders would be loath to admit it, but they have become more establishment, warts and all, than they could have ever imagined. Power corrupts movements absolutely.
This column does not necessarily reflect the opinion of Bloomberg View's editorial board or Bloomberg LP, its owners and investors.