Party Ties Help in the House
Party-funded dollars go further than independent contributions.
by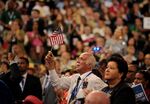 If you're interested in political parties, elections and polarization, see the new research from my buddy Ray LaRaja and his co-authors Bruce Desmarais and Mike Kowal about the electoral importance of what I call "expanded parties." They show that in House elections, challengers supported by donors with ties to party networks do better than those who receive money from those without close party ties. They conclude that party-aligned donors "behave very much like traditional parties by backing a selective group of challengers and helping them win."