view
Illegal Bitcoin IPO Actually Worked Out Pretty Well for Investors
If you are scammed out of bitcoins, should you be able to get your bitcoins back, or just their dollar value at the time? Or nothing, because, come on, don't get scammed out of bitcoins.
by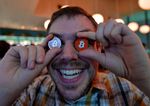 Today the Securities and Exchange Commission shut down a bitcoin investing scam that, as bitcoin investing scams go, is disappointingly un-scammy. A very bitcoiny guy named Erik Voorhees 1 started some very bitcoiny companies called SatoshiDICE and FeedZeBirds, 2 and he sold shares in those companies, for bitcoins, over the internet. He called these sales initial public offerings, and published homemade prospectuses for them on the Internet, 3 but he forgot to register them with the SEC.
The SEC does not like it when you do that. Today it made him disgorge $15,000 in profits and pay a $35,000 fine.
That's relatively small potatoes because, from the SEC order, he doesn't seem to be a particularly bad guy. Voorhees initially IPOed SatoshiDICE in August 2012, ultimately selling 13 percent of the company for 50,600 bitcoins worth about $700,000. 4 In July 2013, Voorhees sold SatoshiDICE for $12.4 million, and after announcing the pending sale went and bought back all of those shares for 45,500 bitcoins worth about $3.8 million. So his investors, in the aggregate, made a 400+ percent return in less than a year.
Wait no did I do that right? Or did they lose 10 percent in less than a year? I mean, in aggregate, they invested 50,600 bitcoins and got back 45,500, for about a 10 percent loss in bitcoins. But also, in aggregate, they invested 700,000 American dollars and got back 3,800,000 of them, for about a 437 percent return in American dollars. So I guess they're not complaining? Or maybe they are, I have no idea. I gather that complaining is a thing that bitcoin investors sometimes do.
The weirder situation is FeedZeBirds, which has not had a liquidity event. On May 24, 2012, Voorhees sold 30,000 shares (30 percent) of FeedZeBirds for 0.08667 bitcoins per share, raising a total of 2,600 bitcoins, worth about $15,000 at the time 5
FeedZeBirds was listed on the Global Bitcoin Stock Exchange, which was run by a man with the confidence-inspiring online nickname "Nefario." The SEC drily points out that the GBSE "ceased operations" in October 2012. From my casual perusal, FeedZeBirds does not seem like a particularly vibrant business these days either.
What happens when you buy stock in a company that ceases operations and de-lists? Well, you're sad, mostly; after all, you were an equity investor and you took the equity risk. But what happens when you buy stock in an illegally unregistered offering of a company that ceases operations and de-lists? You sue, come on, the answer is always that you sue. 6
And the law on this is really simple and clear: If someone sells you a security in an illegally unregistered offering, you are entitled "to recover the consideration paid for such security with interest thereon." 7 So the people who bought those 30,000 shares of FeedZeBirds are entitled to get their ...
Wait, what are they entitled to get back? One might think that they paid about $15,000 for their FeedZeBirds shares, so they should get back $15,000, with interest. This seems to be the SEC's implicit math, too; it required Voorhees to disgorge $15,000, plus $843.98 of interest, in addition to his $35,000 fine.
But why would FeedZeBirds investors want grubby fiat dollars back? They didn't pay 15,000 American dollars for their FeedZeBirds shares. They paid 2,600 glorious bitcoins for those shares. 8 They should demand back those 2,600 bitcoins -- worth about $1.75 million today 9 -- plus interest.
I have no idea whether they'd get them back. 10 A few casual conversations with securities lawyers did not unearth any bitcoin-disgorgement expertise. But if regulators are going to go after bitcoin scams, eventually someone is going to have to answer this question: If you get scammed out of bitcoins, are you only entitled to the dollar value of the bitcoins at the time you were scammed out of them? Or can you actually get your bitcoins back? You know, like as if they were actually currency?
To contact the author on this story:
Matthew S Levine at mlevine51@bloomberg.net
To contact the editor on this story:
Toby Harshaw at tharshaw@bloomberg.net
Before it's here, it's on the Bloomberg Terminal.
LEARN MORE