How Bold Can the ECB Be?
Don't expect high drama this week when the European Central Bank announces extraordinary measures to support the economic recovery.
by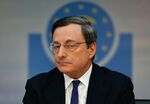 The European Central Bank is expected to make news Thursday by announcing a set of unconventional measures aimed at enhancing the prospects of a healthy economic recovery. Some even expect a replay of the high drama of two years ago, when the central bank moved in a surprisingly bold fashion to avert financial disaster.